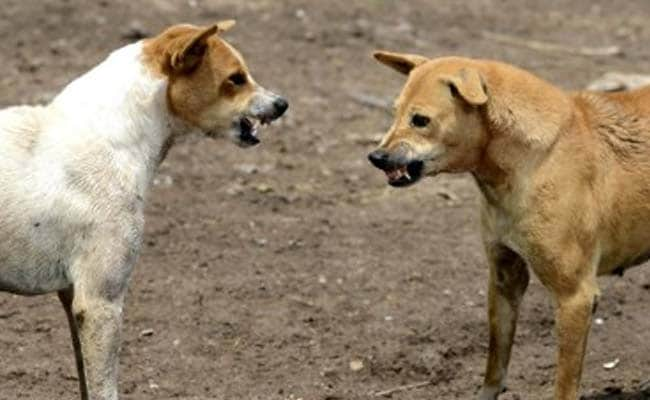 Sitapur:
A 10-year-boy was mauled to death while another was injured by stray dogs on Saturday in two separate incidents which are the latest in a series of attacks that have claimed lives of six kids in five days and left this district terrorised, officials said today.
Such is the fear these attacks have generated in Sitapur, that school attendance has dipped, police are doing extra patrolling, while men go to their orchards and fields armed with rods and axes.
On Saturday, Qasim was grazing his goats when a pack of stray dogs attacked him. He did not survive, a Taalgaon police station official said.
Not far away in Biharipur village, another boy, Irfan, was brutally mauled in a similar attack, the official added.
"Since November 2017, 12 children have fallen prey to dogs while six have been injured," District Magistrate Sheetal Verma told PTI.
Ms Verma said assistance was sought from the Lucknow Municipal Corporation to catch the dogs. Till date 22 dogs have been caught, she said.
Anguished over these incidents, Uttar Pradesh Chief Minister Yogi Aditynath on Sunday took strong cognizance of the incident, and directed officials to ensure that such incidents do not occur in future.
In a statement issued in Lucknow, chief minister Yogi Adityanath said, "Effective action should be taken by forming joint teams comprising officials of the police department, animal health department, nagar palika and nagar panchayat. A team of experts from Lucknow and Bareilly should be called, and a probe be done in this regard."
He also directed that teams be formed in the affected villages, which will monitor the situation and provide security to the children.
UP government minister Rita Bahuguna Joshi, who visited the areas on Saturday, said financial aid would be provided to affected families. Concrete measures will be adopted to counter the menace and every community health centre in the area will be equipped with adequate vaccines and medicines, Ms Joshi said.
The spate of attacks is challenging experts, some of whom believe shortage of food, especially after the crackdown on illegal abattoirs, can be a reason for canine aggression.
On May 1, three children were mauled to death by dogs in villages of Khairabad area after which the district administration called a dog-catching team from Mathura to deal with the menace, officials said.
On May 4, two more children were mauled to death and as many injured by packs of stray dogs in the district, police said.
A four-member team from Mathura, along with forest officials, arrived here and started an operation during which 16 dogs were tranquillised, while two died, officials said.
Director of Bareilly-based Indian Veterinary Research Institute (IVRI) RK Singh told PTI, "Earlier when the abattoirs were operational, the dogs used to get food in form of leftovers. But, with the closure of the abattoirs, there was a shortage of food for the dogs."
"Before this, such aggressive nature of dogs was not reported. And, it would be unfair to call the Sitapur dogs as man-eaters. This is primarily a case of man-animal conflict," he said.
Veterinary doctor Anoop Gautam said, "Due to paucity of food, the dogs tend to become more aggressive. Secondly, the nomadic people generally rear dogs to hunt animals. Now, there has been a shortage of food for the dogs and there are strong chances that the nomadic people may have set free their dogs."
The district administration estimates there are around 100 savage dogs, of which 22 have been captured and sent to Lucknow, where their behaviour will be studied, while 15 were killed by villagers.
The attacks have led to a sharp drop in attendance in schools.
District Inspector of Schools, Sitapur, Devki Singh, said schools in Khairabad have seen a big dip in attendance since May 1 following which directions have been issued that students must be accompanied by their parents to school and educational institutions must ensure that adults from the village pick and drop children.
IG (Lucknow range) Sujeet Pandey said the Sitapur police was instructed to increase patrolling during morning hours.
With the menace spreading to new areas, fear not only prevails among children but also among adults who are reluctant to go to their mango orchards alone. People move in groups and carry rods and axes to combat the canines, according to locals.
The fresh attacks took place in Mahsingpur, Budhanapur, Chaubeypur and Peepur villages of Khairabad and Sitapur town, police officials said.