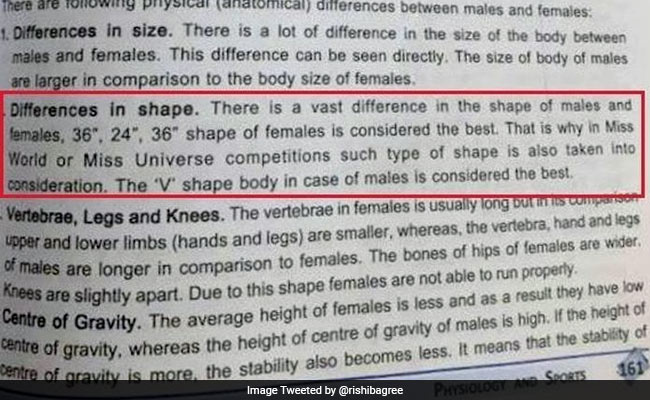 New Delhi:
Taking strong exception to a textbook terming "36-24-36 shape of females to be the best", the Central Board of Secondary Education or CBSE on Saturday filed a police case against the author and the publisher.
CBSE says the textbook, Health and Physical Education, has not been prescribed by them, and has termed the text "36-24-36 shape of females is considered to be the best" as "indecent depiction of women and misrepresenting the syllabus prescribed by CBSE".
Authored by VK Sharma and published by Delhi-based New Saraswati House, the book says that "even Miss World and Miss Universe beauty pageants take the 36-24-36 body shape into consideration while judging their contestants". For men, it says "the V shape body in case of males is considered the best."
There has been huge outrage after the textbook's contents went viral on social media.
Education Minister Prakash Javdekar condemned the sexist remark and said the book "mentions unmentionables about women."
The CBSE said that it does not recommend books by any private publishers to affiliate schools. The book of the private publisher was recommended by the schools themselves and the contents of the book are not compliant with the prescribed CBSE syllabus, said a statement by the board.
The board also stated it has no association with the objectionable contents and indecent references to women in the book.
"The publisher and the author have committed criminal misconduct by publishing and selling these books to the students in connivance with some schools. In the process, the publisher has caused wrongful loss of reputation, goodwill and credibility of CBSE," contended the board.
This isn't the first time the CBSE has been caught in such a controversy. In the past, too, among many such examples, one of the books for Class 6 said meat-eaters cheat, lie and commit sex crimes.
(
With inputs from IANS
)