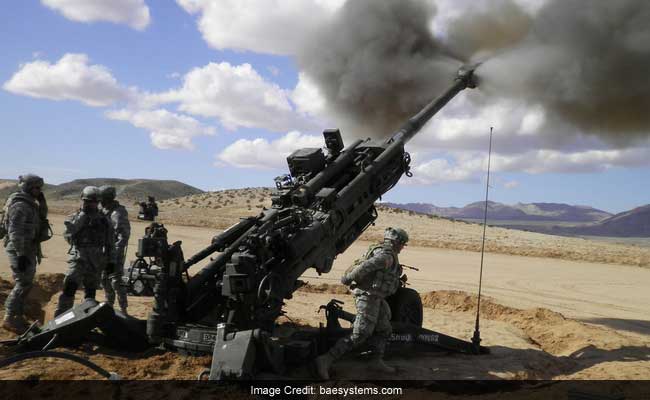 New Delhi:
After three decades, the Indian Army is all set to receive its first heavy ordnance as the first two guns out of the 145 M777 ultra light artillery guns it ordered from the US are expected to arrive, a month ahead of schedule, over this weekend, said a company statement.
"In fulfillment of the United States' Foreign Military Sale of 145 M777 ultra light weight howitzer to India, we are pleased to confirm that the first two weapon systems will land in India ahead of schedule over this weekend," a BAE Systems spokesman said in a statement.
"We continue to support the US government in integrating this new weapon system with the Indian Army's artillery modernisation program," he added
The guns were expected to arrive in the June.
On November 30, India signed the Letter of Agreement and Acceptance (LOA) with the US to purchase 145 M777 ultra-light artillery guns, through the foreign military sale (FMS) route.
The Union Cabinet on November 17 approved the much-awaited deal, which would add tremendous firepower to the Indian Army, especially against China in eastern front.
The air portable 155mm/39 calibre gun, with maximum range of 30 km, is manufactured by BAE Systems.
The $737 million contract has a 30 per cent offset clause worth around $200 million.
Out of 145 guns, BAE will deliver 25 guns and rest 120 will be assembled in India by Mahindra.
The ultra light howitzer is being purchased primarily to deploy on mountains in eastern border with China to provide the much-needed fire power to the Indian Army in the region.
The last artillery guns that India purchased were the much-controversial Swedish Bofors guns in mid-1980s.
(Except for the headline, this story has not been edited by NDTV staff and is published from a syndicated feed.)