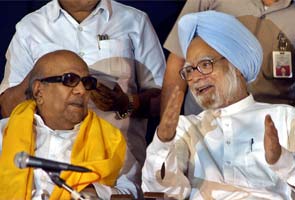 New Delhi:
The UPA government is likely to agree to a discussion in Parliament over a former CAG official charge that BJP leader Murli Manohar Joshi had called audit officials to his house for preparation of the Public Accounts Committee (PAC) report on 2G scam that indicted the government.
Government sources said that DMK, a key UPA ally, is going to move a motion in the ongoing winter session of the House to press for a debate on the allegation made by former auditor RP Singh.
Mr Joshi, who heads Parliament's PAC, offered to resign if allegations against him can be proved.
RP Singh has alleged that he was told to sign on the 2010 audit report to Parliament that had estimated a loss of Rs. 1.76 lakh crore on account of spectrum sale also resurrected the controversy over the basis for such findings.
Mr Singh has claimed that he had estimated a loss of only Rs 2645 crore and he had signed the report containing Rs 1.76 lakh crore loss on the orders of his superiors.
There were charges and counter charges between BJP and the Congress and the Union Ministers latched on to Mr Singh's claims to attack BJP and Mr Joshi.