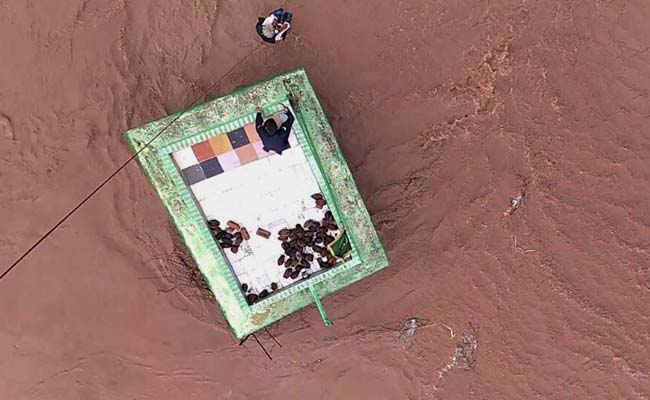 New Delhi:
Prime Minister Narendra Modi will take an aerial survey of flood-affected areas of Gujarat this afternoon a day after nearly 25,000 people were evacuated to safety from the inundated areas in the north and central parts of the state. A high alert has been issued in Gujarat and Rajasthan after the Met office has forecast heavy rain in the next four days. In Rajasthan, where two people have died in floods, Air Force choppers were conducting sorties of the affected areas and other aircraft are kept on stand-by. Schools have been shut in Jodhpur, Sirohi and Jalore, the worst-hit parts of the state. The National Disaster Response Force and other rescue agencies are working round-the-clock to evacuate people from flooded areas.
Here is your 10-point cheat-sheet to this story:
North Gujarat and Saurashtra were hit after heavy rain caused the Sabarmati river to overflow. The flooding has affected Banaskantha, Sabarkantha, Anand, Patan and parts of Valsad districts in Gujarat. Around 11,000 people have been evacuated in Banaskantha district alone. Food packets are being arranged at temporary relief camps.

In Rajsthan, road and rail network has also been affected. The state highway that leads to Jalore, one of the most hit regions, was overflowing this morning. Relief camps have been set up in Sirohi. Dhantiwada, Sipu and Dharoi dams have also overflowed following heavy rain in South Rajasthan.

The NDRF teams have been sent to the affected states for rescue operations. The Air Force has been kept on stand-by to evacuate people in Rajasthan and Gujarat. Four MI-17V5 helicopters were conducting sorties from bases in Jamnagar, Jodhpur and Phalodi.

"We're closely monitoring situation caused by excessive rainfall in ​the Pali, Jalore and Sirohi districts​. Necessary arrangements are being made for rescue and relief measures," Rajasthan Chief Minister Vasundhara Raje said.

Rail services between Ahmedabad and Delhi stopped as the rail tracks, too, got flooded. The Delhi-bound Rajdhani Express forced to go back to Ahmedabad from Mehsana.

Chief Minister Vijay Rupani, who conducted an aerial survey of Surendranagar, has stationed himself in state flood control room to supervise the operations. Since June, 70 people have died in Gujarat due to rain related incidents.

According to the State Emergency Operations Centre, Gujarat has so far received almost 56.61 per cent of the total expected rainfall.

With the met department predicting more rains in the Gangetic region of the Bengal in ther next 24 hours, Chief Minister Mamata Banerjee held a meeting with senior officials. Rain lashed state capital Kolkata through the night, inundating thoroughfares and choking traffic.

In Odisha, extremely heavy rain and thundershowers, along with high-speed surface winds, are expected today due to the formation of a low pressure area over the region. The state government has dispatched rescue and relief team each to the northern Keonjharand Bhadrak districts, as the threat of floods loomed large due to the rising water level in major rivers.

Rain have also lashed several parts of the country, including parts of West Bengal, Uttar Pradesh, Rajasthan and Himachal Pradesh. The situation in flood-ravaged Assam has shown some improvement.