Highlights
Piyush Goyal part of Indian delegation at World Economic Forum in Davos
Says India hopes for $2 trillion investment in infrastructure in 2 years
Says India is the big message at Davos, no better market than India today
Davos:
India is looking at an investment of two trillion dollars in infrastructure over the next two years, Railways Minister Piyush Goyal said on the sidelines of the World Economic Forum at Davos; India is attending the annual event for the first time in two decades.
"We see a two trillion dollar investment in the infrastructure side. To my mind, there is no better a market than India today," Piyush Goyal told NDTV.
In recent years, the government has increased spending on infrastructure, with an allocation of nearly Rs 4 lakh crore in the sector in Budget 2017-18. Earlier this month, the government also allowed 100 per cent foreign direct investment (FDI) in the construction sector. This follows a green signal to highway projects worth about Rs 7 lakh crore for the development of over 80,000 km of highways.
Mr Goyal said the new, emerging India is the big message at Davos, where the world's business and political elite have gathered for the annual event.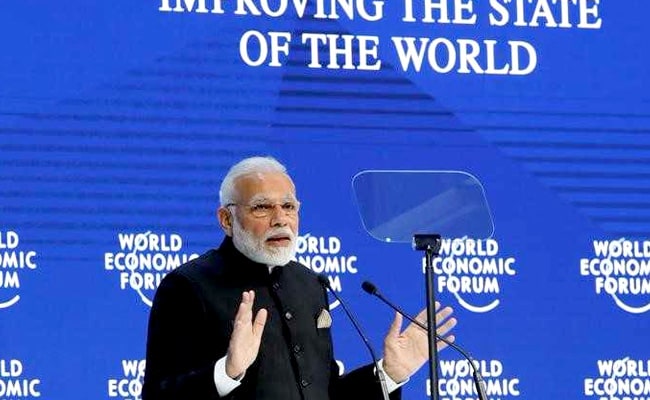 Prime Minister Narendra Modi is the first Indian PM to address the meet in a long time; the last was HD Deve Gowda in 1997.
At the CEOs meet on Monday, PM Modi talked about India's growth story and said that the country presents an exciting opportunity for global businesses. He spoke at a roundtable before hosting a welcome dinner later in the evening.
The roundtable, with the tagline "India means business", was attended by 40 CEOs of global companies and 20 from India.
Summing up the government's focus, Mr Goyal said the message should be "the way India has been able to change the rules of the game with good governance, the way the Indian economy is moving from strength to strength, the way India is being recognised as a superpower, as a great place for business, as a destination to look up to..."
PM Modi's debut at Davos
comes a year after Xi Jinping became the first Chinese leader to address the conference and use the forum to pitch for investments. India has seen foreign direct investments worth $195 billion in the past three years, but that is dwarfed by what neighbouring China attracts. According to a PwC study published at the World Economic Forum, the US remains the most promising market for CEOs, followed by China, Germany, Britain and India.
On China, Mr Goyal said: "We don't plan to play second fiddle to China. We are planning to go ahead of China. We have been the fastest growing economy in the past three years."
PM Modi, he added, "never aims small".