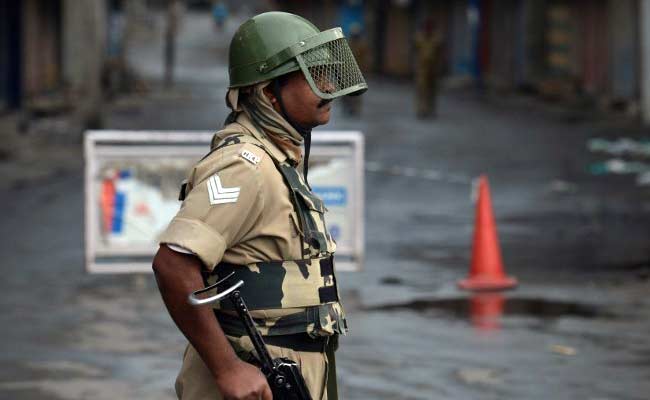 Highlights
2 people, including woman, killed as security forces open fire
Forces say were attacked with stones, locals allege unprovoked firing
42 people have died, over 2,100 injured in clashes in 10 days
Srinagar:
Two people, including a woman, were killed and several injured when security forces opened fire at protesters in Qazigund in south Kashmir on Monday taking the number of deaths to 42 in clashes that have raged since the killing of terrorist Burhan Wani earlier this month.
Official sources said security forces fired as protesters hurled stones at them. Locals however alleged that they were fired upon when they took out a march against the civilian deaths in the Valley.
Last night, a legislator of the ruling Peoples Democratic Party Mohammad Khalil Band was injured when he was attacked by a rock-throwing mob in the Pulwama district.
Protesters have defied a strict curfew, in force for the last 10 days, and taken to the streets in several parts of Kashmir, often attacking the security forces by throwing rocks. More than 2,100 people have been injured in the clashes.
Hundreds of injured are still admitted in various hospitals. According to health and medical department figures, more than 600 people have received injuries from pellet guns - a crowd control weapon.
Many of those injured including several young children may lose their eyesight, doctors say.
The Centre yesterday sent 2,000 extra Central Reserve Police Force (CRPF) troops to the Valley in a bid to help the police in subdue the unrest.
Speaking in Parliament today, Union Home Minister Rajnath Singh said security forces have been asked to exercise maximum restraint when dealing with protesters.
"Kashmiris are our own people," he said, as the Rajya Sabha debated the situation in Kashmir. Mr Singh listed the moves taken by his government to quell the violence and reach out to people.
"A dialogue has to be started with the locals," he said. Mr Singh told Parliament that Jammu and Kashmir Chief Minister Mehbooba Mufti has said once the situation calms down, she will come to New Delhi to discuss the dialogue process.
Ms Mufti's office said she has convened an all-party meeting in Srinagar on Thursday to discuss the situation.