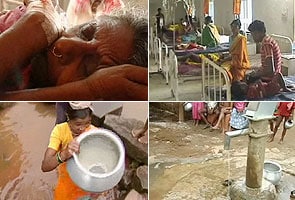 Rayagada, Orissa:
A three-member Central team is in Orissa to assess the situation in Rayagada district where a cholera outbreak has already claimed 75 lives and affected over a thousand people.
The state government has rushed 30 doctors and 50 paramedics along with mobile health units to contain the epidemic, but once again it's about too little too late.
According to government's own statistics, nearly 300 villages have been hit by the outbreak, and though it says nearly 1500 people have been affected, it puts the number of deaths at just 40.
According to the government's own admission, half of the 122 posts of doctors lie vacant.
People were forced to drink contaminated water because the tube wells in the villages were not functioning. For instance in Lakapai village, a tube well was lying defunct for months and got repaired only after a person died of Cholera.
"What do we do when we have over a hundred families and one of the two tube wells does not work?" questioned a villager from Kalyansinghpur.
The district administration claims it's doing all it can.
"Things are more or less getting under control but with Cholera you cannot stay calm, nor complacent because we are expecting a spike by the end of the month and we have to stay prepared for that," said Nitin B Jawale, Collector, Rayagada.
Three years ago, 150 people had died of cholera in the same districts, but as NDTV found out, the administration neglected to provide safe drinking water and healthcare. So once again, scores of lives have been lost.
"On several occasions there have been outbreaks in these areas. We have to deal with it in a holistic manner. Health care services have to be expanded. There's no doubt about it. Road communication should be the first priority," said Prasanna Acharya, Health Minister, Orissa.
That's exactly what the government had promised to address after the Cholera outbreak in Kashipur.
Now over 30 doctors and 50 paramedics have been sent to the area and temporary health centres opened. The defunct tube wells have been repaired on warfooting, but there are fears, once the epidemic subsides, the government's focus on the area will be off.