New Delhi:
Highlights
Sri Sri's foundation held 3-day cultural festival last year
1,000 acres of Yamuna floodplains used to host event
Riverbed "completely destroyed" say experts to court
It will take 10 years to reverse the damage done to the banks of the River Yamuna by a huge cultural festival organised by Sri Sri Ravi Shankar, the country's top environmental court was told today. A team of experts who have visited the area where the three-day event was held last year have said restoring the flood plain will also cost about 42 crores and take extensive effort.
The expert committee provided its assessment to the National Green Tribunal today, provoking a sharp response from the Art of Living Foundation, which is headed by Sri Sri. "We have been victims of a conspiracy. And we will fight for the truth to come out," it said, stressing, like its founder, that "We have never caused any damage to the environment but have in fact worked for preserving and reviving it through various environment-related projects over the years."
Environmentalists last year asked for the "World Culture Festival" to be disallowed, but the court said it was too late to call off the event and fined the organization five crores.
Initially, a four-member committee had recommended that Sri Sri's foundation should be fined Rs 100-120 crore as restoration cost for "extensive and severe damage". Another team of seven experts said that the event, which included a 7-acre stage for 35,000 musicians and dancers, newly built dirt tracks and 650 portable toilets across 1,000 acres had "completely destroyed" the riverbed.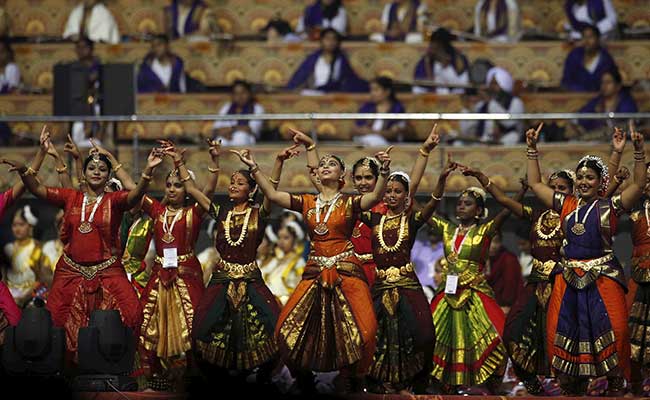 The committee, in its 47-page report, has said that due to the three-day event, the floodplain has lost "almost all its natural vegetation."
Despite the controversy, which saw President Pranab Mukherjee cancelling his appearance, Prime Minister Narendra Modi attended the opening of the festival. Sri Sri, 59, rejected criticism from environmentalists, stating that he should be rewarded for organising the event alongside one of the world's most polluted rivers.