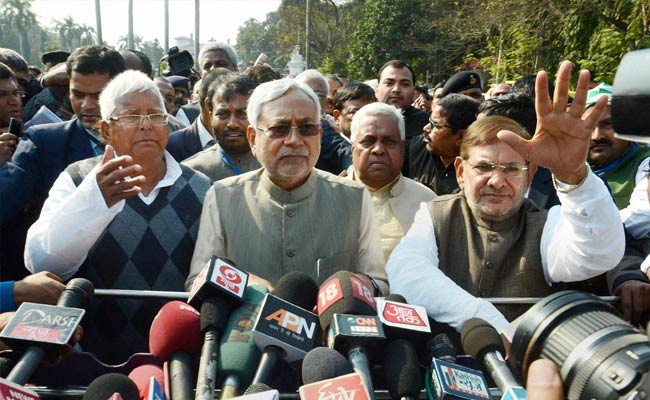 Patna: A patch-up between Bihar Chief Minister Nitish Kumar and his senior colleague Sharad Yadav is seen as a remote possibility now by many in the Janata Dal United, the party they have run together for years. Sharad Yadav is said to be contemplating launching a new party, accusing Nitish Kumar of betraying the mandate of voters by deciding to swap allies and run the Bihar government with the BJP, which he fought bitterly in assembly elections two years ago. He has announced he will meet opposition leaders two days before a crucial JDU meet this month. The separation has been a long time coming, with regular signs of a rift.
Here are 10 such signs over the last few years:
After the JDU, newly divorced from the BJP, was reduced to just two seats in parliament in the 2014 national election, Nitish Kumar owned responsibility and resigned as Chief Minister. Sharad Yadav was not among those in the party who requested that he should reconsider. Mr Yadav, as the party's then chief, said that the JDU does not allow anyone to withdraw a resignation. Jitan Ram Manjhi became Chief Minister.
Months after Mr Manjhi took over, elections were held to the Rajya Sabha from the state and Sharad Yadav won one of the seats. For two other seats, Nitish Kumar's close associates KC Tyagi and Pawan Verma were challenged by two rebel candidates, one of who allegedly told Mr Kumar later that he was instigated to contest by Sharad Yadav. Mr Kumar's aides won with the help of then partner Lalu Yadav's RJD.
Jitan Ram Manjhi was seen as a loyalist, handpicked by Nitish Kumar to replace him, but soon after he became Chief Minister he rebelled and refused to quit when Mr Kumar wanted to take over again. There were murmers then that he dared to do so because he had the tacit support of the party's other heavyweight Sharad Yadav. Mr Manjhi, when sacked by the party later, publicly claimed that Sharad Yadav had told him he did not have to step down to make way for Nitish Kumar.
When Nitish Kumar led a move to appoint the Samajwadi Party's Mulayam Singh Yadav as the head of a merged entity called the "Janata Parivar" that they had planned, it was widely believed that the merger was sabotaged by Mulayam Singh's cousin Ram Gopal Yadav with the support of Sharad Yadav. Both, it was alleged, feared they would be relegated to being second rung leaders in the new grouping.
Soon after leading his alliance with Lalu Yadav and the Congress to victory in the last assembly elections, Nitish Kumar took over as JDU president in place of Sharad Yadav. An upset Mr Yadav accused strategist Prashant Kishor of encouraging Mr Kumar to take over as party president.
When some units of the Janata Dal United in other states opposed the Chief Minister holding the top party post too, Mr Kumar was reportedly convinced Sharad Yadav was behind the protests.
Last year, when Nitish Kumar broke ranks with the opposition to support Prime Minister Narendra Modi's ban on high value notes to battle black money, Sharad Yadav refused to accept the party line decided by Mr Kumar and even attended opposition meetings called to discuss how to attack the ruling BJP over demonetisation.
Sharad Yadav also continued to attend meetings of opposition parties in Delhi to pick a joint candidate for President of India, even after Nitish Kumar backed the BJP's nominee and former Bihar Governor Ram Nath Kovind, citing his excellent relations with him and withdrawing the JDU from the opposition's effort.
In a studiedly silent JDU, as Lalu Yadav and his family were raided last month by the CBI on corruption charges, Sharad Yadav stood out to protest along with other opposition leaders, accusing the BJP of using central agencies for political revenge. Nitish Kumar's lack of comment was seen as an ominous sign for his alliance with Lalu Yadav and the Congress; Sharad Yadav's comments were seen to signal a rift with Nitish Kumar.
When Nitish Kumar finally dumped Lalu Yadav on July 26 over the corruption charges, he told reporters that he had informed Sharad Yadav of his decision. But Sharad Yadav told his aides that he was kept in the dark about Mr Kumar's plans to dissolve his alliance and forge a fresh one with the BJP. This when even Congress vice president Rahul Gandhi claimed that he had known for a while that Nitish Kumar planned to get back with the BJP.
Election Results for Lok Sabha Election 2019 will be out on May 23. Get the latest election news and live updates on ndtv.com/elections. Catch all the action on NDTV Live. Like us on Facebook or follow us on Twitter and Instagram for news updates from each of the 543 parliamentary seats for the election 2019