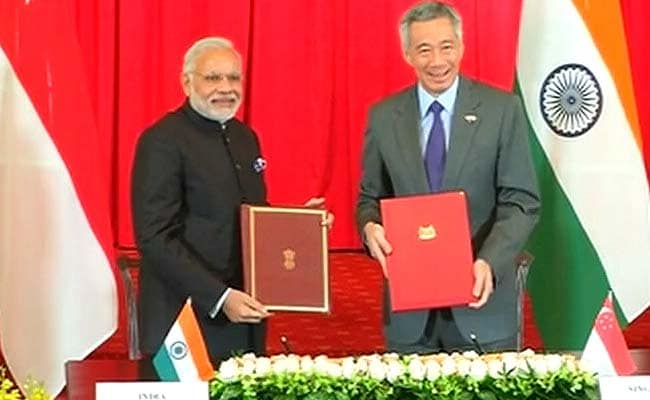 Singapore:
India and Singapore today agreed to elevated their ties and signed bilateral agreements for more cooperation in areas like cyber security, shipping and civil aviation.
The ten pacts signed by the two sides included a joint declaration by the two Prime Ministers on a strategic partnership.
"India and Singapore elevate their bilateral relations to a strategic partnership to deepen and broaden engagement in existing areas of cooperation and catalyse new ones ranging from political, defence and security cooperation to economic, cultural and people-to-people contact. The strategic partnership is also a framework to contribute to greater regional stability and growth," the joint declaration said.
The other pacts provide for defence ministers' dialogue, joint exercises between armed forces, cooperation between defence industries to identify areas of co-production and co-development.
The two sides also signed an agreement on the extension of loan of artifacts to the Asian Civilisations Museum of Singapore, and an MoU between Indian Computer Emergency Response Team (CERT-In), the Indian IT department and Singapore Computer Emergency Response Team (SingCERT), Singapore's Cyber Security Agency on security cooperation.
The MoU promotes closer cooperation and exchange of information pertaining to cyber security between the Computer Emergency Response Teams of the two countries by establishment of a broader framework for future dialogue; exchange of information on cyber- attacks; research collaboration in smart technologies; cyber security policies and best practices as well as professional exchanges.
An MoU was also signed between Airports Authority of India (AAI) and Singapore Cooperation Enterprise (SCE) to facilitate mutual cooperation in a number of mutually agreed areas of civil aviation services and airport management beginning with Jaipur and Ahmedabad airports.
Another pact was signed between National Institution for Transforming India (NITI Aayog) and Singapore Cooperation Enterprise (SCE) on cooperation in the field of planning. This MoU promotes knowledge and information exchange in urban planning, waste water management, solid waste management and public-private partnerships between the two organisations.
The Narcotics Control Bureau (NCB) of India and the Central Narcotics Bureau (CNB) of Singapore also signed an MoU on cooperation to combat illicit trafficking in narcotic drugs, psychotropic substance and their precursors.
Another MoU between the Town and Country Planning Organisation of India and the Singapore Cooperation Enterprise in Capacity Building in urban planning and governance provides for wider engagement between the two nations.
Besides, both sides inked an executive programme document on cooperation in the fields of arts, heritage, archives and library for 2015-18.