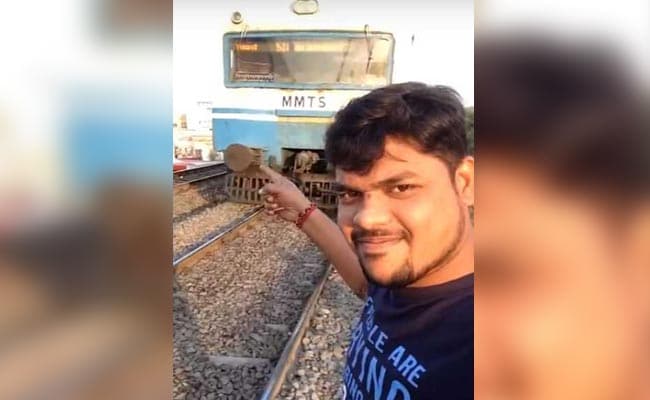 Highlights
The man who took the selfie suffered head injuries
He appeared to have misjudged impact of train's speed and wind
In 2016, Mumbai police marked over a dozen "no-selfie zones"
Hyderabad:
A young man posing for a daring selfie with a speeding train in Hyderabad ended up in hospital after getting badly hit in a disturbing video that has gone viral.
The man, Shiva, survived with injuries to his head and hand. He is at a private hospital.
In the video clip that emerged online on Wednesday, he smiles into his smartphone camera and keeps his right arm pointed at the approaching MMTS or Multi-Modal Transport System train. Someone is heard warning him but he appears to say, "wait", determined to achieve his dramatic shot. The train's whistle gets louder and those watching the video can sense the danger hurtling towards him, but Shiva is oblivious and simply grins wider.
Suddenly, he is hit and the image goes blank after a loud sound. The audio, still on, catches the commotion as people realise what happened and rush towards the wounded man.
Shiva misjudged the impact of the train's speed and the wind, said his friends.
"Height of stupidity," commented people on social media, reacting to the video that was rapidly shared.
India has the most number of deaths because of reckless selfie-taking; between March 2014 and September 2016, 60 per cent of all "selfie deaths" took place in the country.
Posing with a train is a popular stunt that has often ended in tragedy. Last year, a teenager was electrocuted while taking a selfie on top of a train. In May, two men were crushed by a train - one died and another lost his arm.