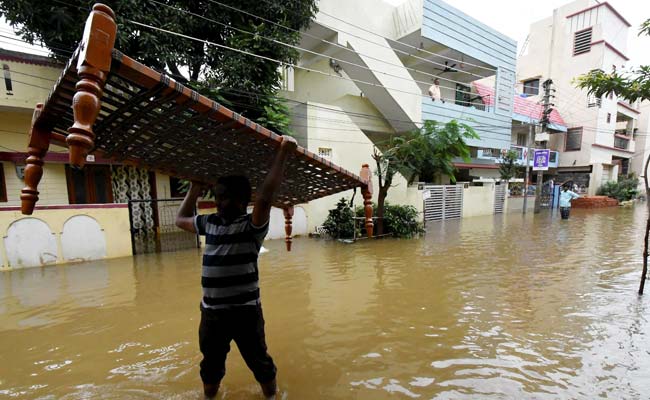 Hyderabad:
Rain extremities may increase in the coming years in Hyderabad, a city that, as of now, does not seem to be fully prepared to deal with such scenarios, environmental scientists have warned.
Environment Protection Training and Research Institute's director general B Kalyan Chakravarthy said that in the last two decades, the city has been witnessing erratic rainfall behaviour.
The events of high intensity rainfall are on the rise.
In the year 2000, 23 events were observed with 20mm/hr rainfall, in 2005 these events increased to 28 and in 2008 they further rose to 36. Events of even higher intensity i.e. 40 mm/hr also show a similar exponential increase in Hyderabad, he said.
"While the trends of high intensity rainfall are on the rise, the drainage system of the city is designed to cater to a maximum rainfall intensity of 12mm/hr. This leads to severe flash floods in the city causing loss of property. Unfortunately, lakes which serve as natural flood management mechanism in the city are also under pressure of urbanisation, encroached, silted or not functional," he said.
Hyderabad witnessed pounding rains recently causing havoc in some parts that also exposed inadequacies of civic agencies and government in quickly meeting such eventualities.
Based on the data available with Pune-based Indian Institute of Tropical Meteorology (IITM), and research conducted by EPTRI, a nodal agency on Climate Change for the state of Telangana, senior EPTRI scientist J Sesha Srinivas told PTI here that while rainfall is projected to be more or less the same from 2020 to 2050 compared to the previous decades, the "rain extremities" (uneven rainfall) might increase.
Mr Chakravarthy also said the climate model projections prepared by EPTRI in association with IITM predicted an average temperature increase of 1.17 degree Celsius for the Hyderabad region for the period 2020 to 2050.