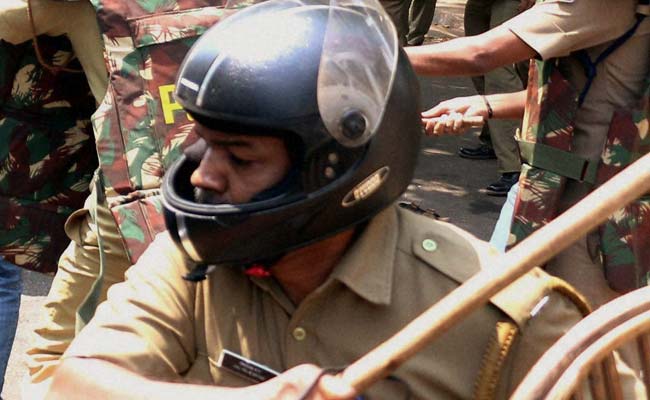 Highlights
Widespread assault of women students: independent fact finding team
Violent protests broke out upon HCU Vice Chancellor's return to work
Students hold Vice Chancellor responsible for Rohith Vemula's suicide
Hyderabad:
Policemen who cracked down on students protesting at the University of Hyderabad had allegedly threatened to rape the women students, an independent fact finding team has claimed.
The team, which was looking into the incidents that happened on the campus on March 22, has claimed that there was widespread assault of women students. "Abusive language and threats to rape the women students were heard from police," claimed the interim report by the panel comprising senior human rights activists, academicians and lawyers.
The team, which met students, faculty members, police, and the Telangana home minister, also claimed that statements made targeting minority students, describing them as "terrorists" were also heard.
The team members told reporters on Saturday that students and faculty members arrested were not presented before a magistrate within 24 hours as required by law. "Police could have given bail but the students and faculty were remanded in judicial custody," said the report.
Police had arrested 25 students and two faculty members when they were staging a protest against P Appa Rao resuming his duties as the vice chancellor of the university.
Mr Appa Rao, his representatives, and other university officials refused to meet the panel.
The committee claimed that the registrar had banned the entry of the media, political, social, and student groups on March 23.
The panel said that the return of Mr Appa Rao triggered the disruption of peace on campus because of "police inaction in the case registered against him, central minister Bandaru Dattatreya, and ABVP leader Sushil Kumar under SC/ST (Prevention of Atrocities Act)" in connection with research scholar Rohith Vemula's suicide in January.
The panel recommended that the vice chancellor be suspended pending the outcome of the investigation for the best academic interest, and in restoring a peaceful environment in the university.
The panel also recommended that a criminal investigation be immediately conducted, and action be taken against the police who have willfully neglected their duty under section 4 of the SC/ST amendment act, 2016.
It appealed for immediately restoring normalcy at the university.
"(There must be) free mobility in and out of the university, and this (the varsity) must be brought back to regular functioning. This is essential for the academic health of the university, which has suffered significantly."
The panel consisted of the following members -- Henri Tiphagne (Human Rights Defenders Alert), Tara Rao (Amnesty International), Burnard Fatima (International Movement against all forms of Discrimination and Racism), Kuffir Nalgundwar (Round Table India), Kiruba Munusamy (Supreme Court lawyer), Beena Pallical (National Campaign on Dalit Human Rights), Ramesh Nathan (National Dalit Movement for Justice), Asha Kowtal (All India Dalit Mahila Adhikar Manch) and Paul Divakar (Asia Dalit Rights Forum).