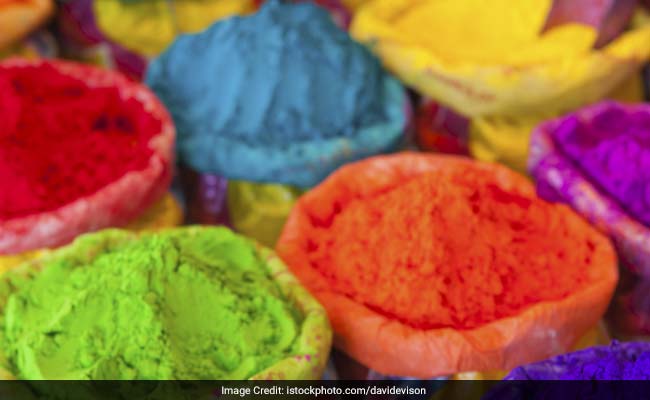 Holi is the festival of colours that falls on the full moon day in the month of March. It heralds the arrival of Spring - the season of hope and new beginnings and marks the rekindling of the spirit of life and the end of chilly winter days and the beginning of summer. The mythological origins of this festival vary in different parts of the country.
People smear each other's faces with coloured powder known as '
Gulal
' and '
Abeer
' and throw coloured water or '
Rang
' on each other. Most of the people nowadays prefer the traditionally prepared natural herbal colors that are not only fragrant but also skin-friendly. Playing with colours on Holi is fun but can turn out to be harmful if care is not taken. The consequence of Holi is not just spoilt clothes and floors, but the skin and hair too are traumatised due to the presence of chemicals in the colours. It is recommended that natural colours and herbal dyes should be used. To make Holi truly colourful, try the following tips:
Synthetic colours used during Holi often contain lead oxide, engine oil, diesel, chromium iodine and copper sulphate, which cause skin irritation and even blindness in cases of extreme exposure. To make your own colours, all you need is a few plants. For the colour green, take plants like Henna, dry and powder it. Use separately or mix it with suitable flour to make green colour. Alternately, you could use paste of green leafy veggies to turn others green. Turmeric mixed with gram flour gives a good colour too. Marigold flowers can also be dried and the paste can be used instead for artificial colour. Red sandalwood powder can be used to colour the cheeks crimson. Rose petals or gulal is also a good option and so is vermilion. Red hibiscus flowers soaked in water overnight, also give a red colour.
You should use natural/skin friendly and herbal colours or the ones made by reputed companies using natural products. They are safe and promise colour not scars. Individuals with a history of eczema or Atopic Dermatitis are at a high risk of developing allergic contact dermatitis to Holi colours and dyes. This will manifest in itching, a red rash and irritation on the area of contact. Such individuals should use a barrier cream (white soft, yellow soft, paraffin) prior to playing Holi. They should avoid using colour on sensitive areas on the face.
Those who are greeted with colour on their hair should rinse their hair with a mild shampoo immediately. In case of any rash or allergy, treatment would include taking a non-sedative, anti-allergic tablet.
Wear clothes that cover the maximum part of your body. Apply cold cream/oil on all exposed parts and follow it up with sunscreen, preferably waterproof. For the hair, use oils or gel to counter the harmful effects of colours. Since Holi colours cause skin dryness, vaseline should be put under nails and soles, elbows and other dry areas of the body.
Make sure that your face is well creamed before and after the play.
Apply thick coating of paint on your nails- both in fingers and toes so that they remain protected.
Oil your hair well, so that colour doesn't stick on your hair and can be washed off easily later.
Cover your hair. Make use of hat or caps to protect your hair from being coloured with hard-to-rinse dyes.
Make sure that powder or any other product does not get inside your eyes. Eyes are extremely vulnerable on Holi because of their strategic place in body and also because of the use of harmful chemicals in colors these days. Please ensure that your eyes remain protected at all times. Use sunglasses to protect your eyes from a misfire of colour filled darts or water jets.
Use dental caps to save your teeth from any unwanted stains.
After celebrating Holi, it is important to remove colour and replenish and rejuvenate the skin by using a paste of soyabean flour or besan with milk. A mixture of sea salt, glycerine and few drops of aroma oil have anti-bacterial and anti-fungal effect and can take care of the bad effects of chemical colours. To clean use warm water and moisturizing soap to scrub off the colours. Using a cream cleanser or baby oil, gently massage off the left over colour.
Cleaning the skin finally of all the colours is the most important aspect. Do not rub the skin vigorously with soaps, etc. to wipe the face of gulal but instead, opt for a cleanser. Follow this up with lots of moisturizer, specially one that is meant for sensitive skin. Liberal use of cold cream or a moisturizer is good for the skin.