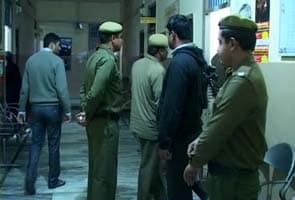 Gurgaon:
About 12 armed men casually entered the Intensive Care Unit (ICU) of the Sunrise Hospital in Gurgaon on Tuesday evening and shot at pointblank range a businessman in his fifties, Satveer Singh, and Joginder, his 23-year-old son. Joginder died this morning at the Medanta Medicity hospital, where they were shifted after the attack.
The incident was caught on Sunrise hospital's CCTV cameras. Footage shows the men sauntering into the hospital on Khandsa Road, one after the other, guns in hand and walking into the ICU. Gunshots are then heard.
Satveer and Joginder were in the ICU after being injured in a scuffle at a local court earlier in the day over what police suspect was a dispute with rivals in their transport business.
All the accused are on the run. Gurgaon Deputy Commissioner of Police Maheshwar Dayal said an attempt to murder case has been registered against 10 people.
Police sources said they were verifying if two suspects, Basant Fauji and Kalu, from Satveer rival transport group were involved in the attack.
The administration at Sunrise Hospital says everyone there was caught unawares. The one guard posted at the entrance was easily overpowered.
"There were 10-12 of them. They were armed. They even held a gun to the guard's head. What could we have done in that situation?" said a doctor at Sunrise Hospital.
After the shooting, the two victims were shifted in critical condition to the bigger Medanta Medicity Hospital, where Joginder died.
"It appears to be a case of old rivalry. We are investigating," said a police officer.
Satveer and Joginder belong to Khandsa village in Gurgaon's Sector 37. Police suspect their attackers were from the same area.
(With inputs from agencies)