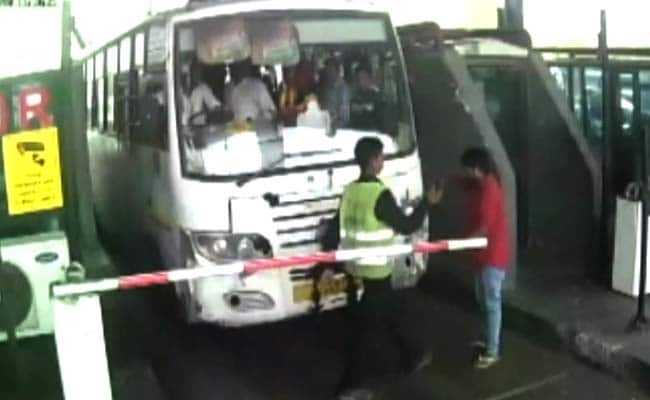 Gurgaon:
Refusing to pay a toll tax of Rs 60, a bus driver allegedly tried to crush a toll plaza manager under the wheels when asked to stop the vehicle.
The incident happened around 1120 hours yesterday when a bus, belonging to a private city bus service, reached the Kherki Daula toll plaza and the toll collector asked the driver to pay the toll of Rs 60, but he refused and tried to flee, police said.
On seeing that driver was trying to flee without paying, the manager signalled the driver to stop but he tried to crush him under the wheels. The manager jumped aside to save himself, they said.
The incident was captured on CCTV which the toll company later handed over to Gurgaon Police, based on which a case was registered against the accused bus driver in Kherki Daula police station.
In another incident, a toll collector was manhandled in his toll plaza office allegedly by 6-7 persons after he asked a truck driver to pay the toll tax, police said.
The incident, which was also captured on CCTV, happened on Friday when the toll collector asked the truck driver to pay the fee, they said.
The driver refused to pay, saying he was from the area and also showed the toll collector a registration certificate (RC) of the vehicle, as local people are exempted from paying toll tax.
But the toll collector refused to allow him to go without paying as the RC was "forged", following which the driver called some people from a nearby village and manhandled him, police said.
Gurgaon Police PRO Hawa Singh said, in both the incidents, police have registered cases against people yet to be identified.
"We are examining CCTV footage given by the toll staff and are investigating," he said.