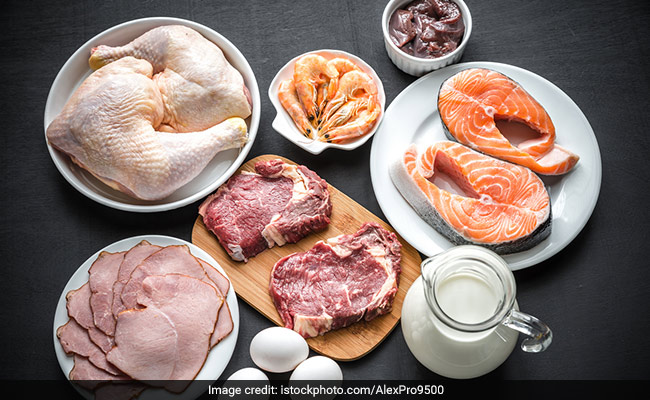 Protein and its role in weight loss has been well-known. Protein helps you keep satiated. It increases levels of appetite-reducing hormones like GLP-1, PYY and CCK, while reducing levels of the hunger hormone - ghrelin, making you crave less, thereby aiding weight loss. It also increases the thermic effect of food, which helps speed up the weight loss process. However, with protein too you have to be a little cautious. It is said that weight loss has a lot to do with the choices you make. According to experts, picking lean proteins in place of fatty ones may help boost your weight loss journey.
Sometimes, the most protein-rich foods like lamb, mutton and pork are accompanied with extra calories and fats that are not required by your body. Skinless chicken and turkey, non-fat dairy, fish, shellfish, tofu and other soy foods are some common forms of lean protein that are low on calories.
Here are some lean protein sources that you can load up on:


1. Chicken: Chicken is touted to be the one of the best sources of lean protein. Macrobiotic Nutritionist and Health Practitioner Shilpa Arora says, "Chicken is packed with lean protein that helps you keep satiated for a longer time as protein helps the body burn fat more effectively. Try to have local farm-raised chicken or organically-raised chicken. Grill, stir-fry or add them in stews for maximum benefits.
2. White -fleshed fish: White-fleshed fish like cod and tilapia are excellent source of lean proteins. You can have them grilled or steamed with fresh and seasonal vegetables on the side.
3. Greek yogurt: According to USDA, 1 ounce of Greek yogurt has about 12 grams of protein. Greek yogurt does not contain any liquid whey and lactose. Experts say that Greek yogurt boasts of twice the amount of protein and half the carbs when compared to normal yogurt. Not just this, the sodium content in Greek yogurt is also half!
4. Tofu and other soy foods: Vegans rejoice! Soy foods have emerged to be nutritional showstopper of sorts. There are plenty of reasons why you may want to consider making them a part of your diet too. 100 grams of tofu contains 8 grams of protein. You can prepare them anyway you want. Toss them in between your salads, sandwiches or you can also have them as tikkas.
5. Egg: Egg is said to be the best bio-available source of protein out there. A 100 grams serving of egg contains about 14 grams of protein. You can go for an egg white salad, or a quick omelette with several veggies, or a sandwich with egg whites.


Load up on these foods and lose weight the healthy way