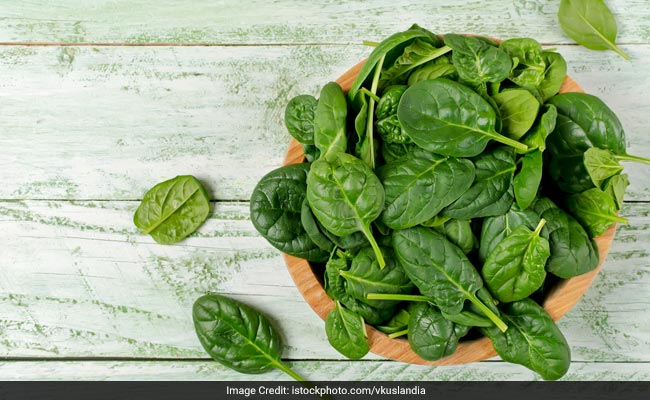 Vegetables, especially green vegetables are mostly consumed for their rich fibre content. High fibres induce a sense of satiety, since they stay in your system for long. Fibre takes the longest to break down and digest which makes you feel full and prevent bingeing. This is why fibre rich foods are often recommended in an ideal weight loss diet, and green vegetables carry them in heaps. Additionally, there are some green vegetables that are a great source of protein too. Protein helps out body with a number of important functions and helps maintain muscle mass. Protein is very essential for weight loss too. It helps you keep satiated for long. Protein increases levels of appetite-reducing hormones like GLP-1, PYY and CCK, while reducing levels of the hunger hormone ghrelin, making you crave less, thereby aiding weight loss.
Here are 5 high protein green vegetables that could help promote weight loss:
1. Spinach: Spinach is a powerhouse of vital nutrients and minerals. 100 grams of spinach contain 2.9 grams. Protein accounts for 30% of the calories in spinach. It is also a great. Spinach is rich in vitamins A, C and K, magnesium, iron and manganese. It is good for eye health, reducing oxidative stress and regulating blood pressure too.
2. Bok Choy: Bok Choy is an excellent source of folate, calcium, potassium, manganese, iron and vitamins A, C and K. 100 grams of bok choy contain 1.5 grams of protein. Bok choy is used in many dishes due to its crisp texture, sweet flavour and nutritional value. You can use them in salads, stews and stir fry.
3. Aspargus: 100 grams of asparagus contain 2.2 grams of protein. Asparagus is also an excellent source of B vitamins, folate, copper, manganese, phosphorus, magnesium, and vitamins A and K.
4. Mustard Greens: Mustard leaves is a popular winter vegetable. According to the book, 'Healing foods' by DK publishing, "the antioxidant beta-carotene andvitamins C and K help neutralize toxins and remove them from the body, providing effective detox support'.It is also high in manganese, calcium, potassium, B vitamins, vitamin C and vitamin E
5. Broccoli: Broccoli is rich in protein and has zero fat with very less calories. It makes for a great food full of vitamins, minerals and antioxidants that promote a healthy body.
Disclaimer: This content including advice provides generic information only. It is in no way a substitute for qualified medical opinion. Always consult a specialist or your own doctor for more information. NDTV does not claim responsibility for this information.