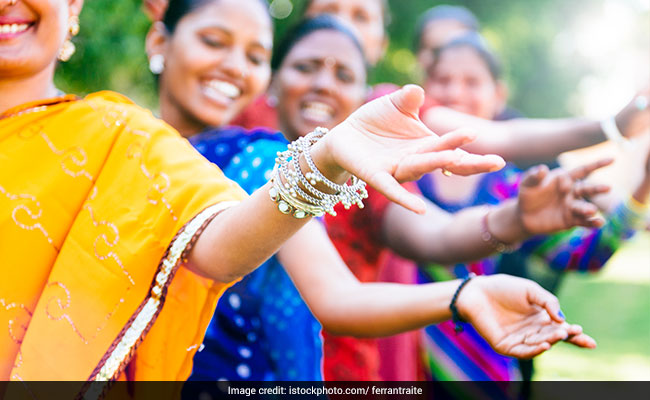 Highlights
India is a land of colourful festivals celebrated with much grandeur
Hartalika Teej is the most important Teej festival out of the three
Hartalika Teej will be observed on 24th August, 2017
India is a nation that boasts of numerous colourful festivals celebrated with much grandeur. There are some festivals that are prevalent among women, such as Teej, which is celebrated with much fervour in the states of Rajasthan, Jharkhand, Bihar, Uttar Pradesh, Madhya Pradesh, Chhattisgarh and Maharashtra. Hartalika Teej is the most important Teej festival out of the three including Hariyali Teej and Kajari Teej. It is observed on the third day of Shukla Paksha (fortnight) in the Hindu month of Bhadrapad. This year, Hartalika Teej is observed today, that is 24th August, 2017. This festival is dedicated to Maa Hartalika, who is also known as Goddess Parvati. Hartalika Teej is celebrated to commemorate the day when Lord Shiva accepted Goddess Parvati's love towards him. Women all across the country, married or unmarried celebrate this festival in order to be loved by their counterparts or get loving spouses.
Hartalika Teej 2017: Significance and History
'Harat' translates to abduction and 'aalika' translates to a female friend. According to the Hindu mythology, Goddess Parvati was abducted by her friends so that she didn't get married to Lord Vishnu, a match set by her father. Goddess Parvati was in love with Lord Shiva. Considering the ascetic he was, it was a difficult task to woo him. Goddess Parvati decided to put all her efforts to make Lord Shiva know about her undying love and affection for him. It is believed that she took 108 births and penance to receive the love from Lord Shiva. The dedication led to Lord Shiva's acceptance of her love towards him. It is said that this day onwards, Goddess Parvati declared this day auspicious for women and proclaimed that whoever will perform certain rituals on this day will be blessed with a happy married life.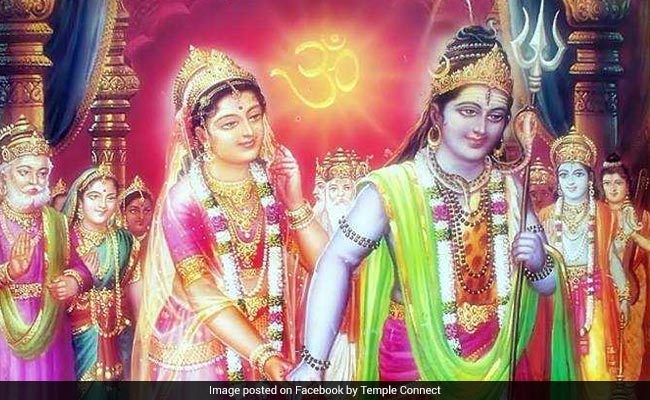 Teej is observed to celebrate triumph of love and a hope to lead a blessed marital life

Hartalika Teej 2017: Rituals and Celebrations
On the day of Hartalika Teej, women wake up early in the morning, take bath and wear new clothes and adorn the best jewellery. In some regions, solah shringar (16 elements) is prevalent among women. Then they proceed to visit temples for the early morning puja. While doing the puja, they have to light a mud diya, which should be kept lit all night long. They also observe a Nirjala (without water) Vrat so as to be blessed by Goddess Parvati. Women decorate Goddess Parvati and Lord Shiva's clay idols and in the evening, they get together to sing traditional Teej songs and swing on beautifully decorated swings in the garden.
On this day, women receive gifts from their parents, parents-in-law, which generally consists of traditional laheria dress, bangles, henna, sindoor and sweets like ghewar. These gifts are collectively known as Shrinjhara or Sindhare.
Hartalika Teej 2017: Prasad and Bhog
Although women observe fast on this day and restrict themselves from food and water for about 24 hours, but they offer fresh fruits, sweets like ghewar and pedas, and suhaag (sindoor, mangal sutra, etc) items that are relevant for married ladies to Goddess Parvati.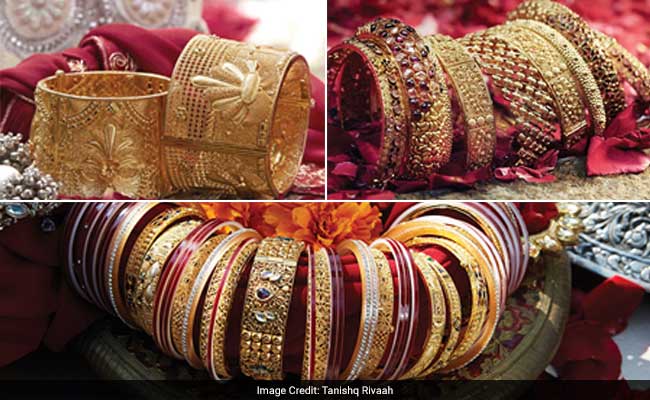 Married women are given Suhaag items on Teej that include mangalsutra and sindoor
Hartalika Teej 2017: Mahurat Timings
Pratahkal Hartalika Pooja Mahurat- 06:22 am to 08:54 am.
Pradoshkal Hartalika Pooja Mahurat- 19:00 pm to 20:27 pm.