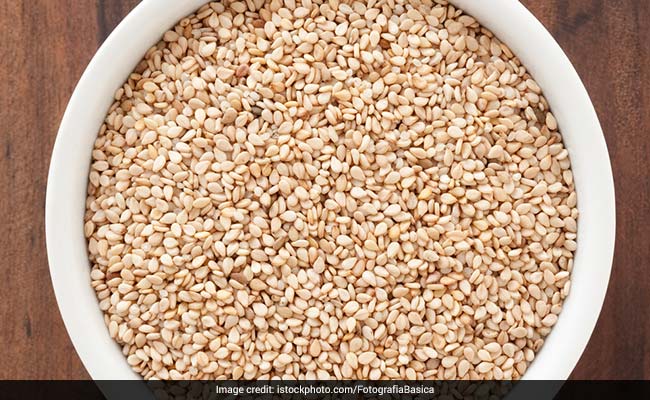 Winters are here and so are the winter special foods. Sesame seeds or til are an indispensable part of Indian winters since time immemorial. From til ke ladoo to til ki gajak, it is difficult to imagine winters in India, without taking sesame into account. And if you thought that it was just another ingredient in your kitchen pantry. Think again! Prized in Ayurveda for its ability to generate heat and energy in the body and its numerous beauty and hair benefits, sesame seeds are loaded with nutrition that makes it a must-have in your winter diet. Here are some more health and beauty benefits of sesame seeds that will help you uncover all the hype around the superfood.

1. Triggers Hair Growth

Losing hair? Load up on sesame seeds. Sesame seeds strengthen the roots.The rich omega fatty acids content present in the seeds help promote hair growth and also repairs hair damage. They also help in moisturising the scalp and improve blood circulation to rejuvenate hair follicles.

2. Anti-ageing properties

Sesame seeds are packed with antioxidants that reverse signs of ageing and give you a youthful skin.

3. Boosts Skin Health

The oil present in sesame seeds can do wonders for your skin. They help the skin remain soft and supple. They are rich in anti-inflammatory properties that are vital in healing redness, sores and other facial skin issues from within. You can mix one tablespoon olive oil and two tablespoons of powdered sesame seeds. Apply this mixture on your face after dampening it. Do it once or twice a week for best results.

4. Boosts Dental Health

The oil present in the seeds help removing dental plaque and boosts oral health.

5. Boosts Digestion

The black sesame seed can help in curing constipation due to the high fiber content and unsaturated fatty acid content. The oil found in the seed can lubricate your intestines, while the fiber in the seed helps in smooth bowel movements.
The black sesame seed can help in curing constipation

6. Good Source of Energy

According to consultant nutritionist Dr. Rupali Dutta, "sesame seeds are a good source of energy due to the high fat content. They contain healthy fats like polyunsaturated fatty acids and Omega-6. They also contain fiber, iron, calcium, magnesium and phosphorus that helps boost energy levels."

7. Stabilizes your blood pressure

Sesame seeds are rich in magnesium that helps prevent hypertension. Polyunsaturated fats and the compound sesamin present in sesame oil are known to keep blood pressure levels in check.

8. Boosts bone health

According to Dr. Gargi Sharma, Nutritionist at Aayna Clinic in Delhi, "Osteoporosis is a condition of fragile bones with an increased susceptibility to fracture. Bone mass tends to decrease after the age of 35, and bone loss occurs more rapidly in women after menopause. Black sesame seeds are abundant in calcium and zinc that your bones strong."
Bone loss occurs more rapidly in women after menopause

9. Helps Fight Stress and Depression

Trying to cope with stress at work? Or is your personal luife giving you sleepless nights? Try sesame seeds. Sesame oil contains an amino acid known as tyrosine, which is directly connected to serotonin activity. Serotonin is a neurotransmitter which impacts our mood. An imbalance of it could lead to depression and stress. According to experts, consuming foods that help in the production of serotonin helps in feeling positive, keeping chronic stress at bay. Sesame oil is a good example of that.

10. High Source of Unsaturated Fats

Unlike butter and desi ghee which come loaded with harmful saturated fat, sesame oil primarily contains unsaturated fats. According to the nutritional value chart of sesame oil, per 100 grams contain 40 grams monounsaturated fats, 42 grams polyunsaturated fats and about 14 grams saturated fats. All cooking oils contain a mix of all the three types of fats, the varying amounts of which determine how healthy or harmful it is for us.

How To Have Sesame Seeds:
Sesame seeds are an important part of Indian cuisine since centuries. It is especially consumed in winters for its warming nature. The seeds are often blended with warm jaggery, sugar, or palm sugar and made into balls and consumed as a snack as Til ka ladoo. In addition to this, Til Pitha, Til Gajak are common snacks consumed around winters.

According to Dr. Anju Sood, a Bangalore-based nutritionist, "You can sprinkle these nutrient-rich seeds over your cereals, noodles or rice. You can also mix them with your yogurt or smoothie to give it that nutty flavour. Also, if you soak these seeds overnight it aids in the absorption of calcium and minerals from the seeds, as well as reduces the effects of oxalic acid found in them that can prevent the absorption of nutrients. People who have a weak stomach or a history of kidney stone, should not consume too much of it."
So have a healthy diet with the various benefits of sesame seeds.