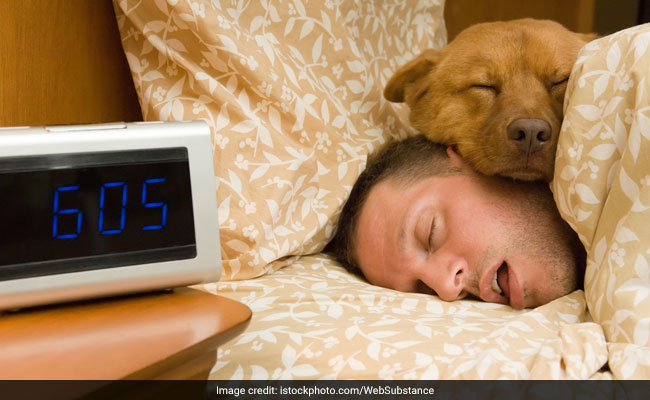 Highlights
Are you lacking a restful sleep at night?
Lack of sleep could be associated with Parkinson's disease
Healthy people are relaxed and lie still during dream sleep
Are you lacking a restful sleep at night? It might pose serious health problems in men. According to a study published in the Journal The Lancet Neurology, lack of sleep could be a sign of disorder associated with Parkinson's disease. The rapid eye movement sleep behavior disorder or RBD, which most often affects persons aged 50-70 years and more frequently in men than women, is characterized by disturbances in the part of sleep where dreams take place.
While healthy people are relaxed and lie still during dream sleep, people suffering from RBD live out their dreams and during sleep they hit, kick and shout. The study revealed that men with RBD lack dopamine- a chemical in the brain that affects emotions, movements and sensations of pleasure and pain and have a form of inflammation of the brain. As a result, their risk of developing Parkinson's disease or dementia when they grow older increases. Parkinson's disease occurs precisely because the group of nerve cells in the brain that produces dopamine stop working.
"These patients have an inflammation of the brain in the area where the dopamine-producing nerve cells are found," said Morten Gersel Stokholm from Aarhus University in Denmark. "The findings would be used to determine which patients with the sleep disorder will later develop Parkinson's disease. At the same time, this can also help to develop drugs which can stop or slow the development of the diseases," Stokholm explained.
Your diet also affects your sleep, therefore we enlist some ayurvedic herbs that will help you get a sound sleep.
1. Brahmi
Brahmi is one such herb that supports a sound sleep and calms emotional turbulence, further helping improve concentration and alertness. It is also known as brain tonic in the world of ayuveda, and is known for curing digestion problems. It also improves blood circulation, supporting the body's natural healing process.
2. Vacha
Vacha is known to have calmative properties on your brain, curing tension and insomnia. It also acts as a coolant that relaxes the nerves thereby inducing sleep.
3. Sarpgandha
Also known as Indian snakeroot, sarpgandha contains more than 50 alkaloids in it, which in turn help in reducing high blood pressure or hypertension that can cause sleeping issues.
4. Ashwagnadha
Ashwagandha is one of the best sleeping stimulators. It has an active compound known as triethylene glycol that works wonders to induce sleep.
With inputs from IANS