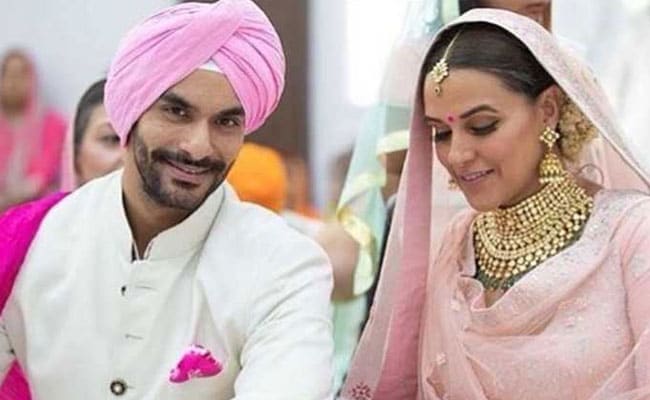 Bollywood actors Neha Dhupia and Angad Bedi surprised everyone today by getting married in a low-key affair in Delhi. The actors announced their marriage on their social media pages, eliciting a stream of surprise and congratulatory messages from fans, followers and industry friends. Director producer Karan Johar, actor Ayushmaan Khurrana and other stars and celebs sent out love and best wishes to the handsome couple, who had a completely hush-hush wedding in the capital. According to media reports, the wedding ceremony followed the style of a traditional Sikh Anand Karaj and was attended by only very close friends and immediate family. The wedding venue was reportedly a Gurudwara in South Delhi and the couple had donned a very simple, yet elegant Indian ensemble in shades of white and soft pink.
Angad Bedi and Neha Dhupia both look resplendent in their wedding attires and their fans can't stop gushing about them. Neha and Angad both have huge fan followings on social media, but the pictures of the couple together, rarely made appearances in either of their feeds. Here are some food and fitness secrets of the newly married couple- Neha Dhupia and Angad Bedi.
Angad Bedi: Diet and Fitness Secrets
Angad Bedi has a very fit physique and he often posts pictures and videos of himself working out in the gym, on his Instagram page. Bedi, who plays a central role in a web series about cricket, called The Inside Edge, has been gearing up to play the role of an athlete for an upcoming Sandeep Singh hockey biopic. His muscular and lean body makes Angad the perfect person to play a sportsperson and his well-toned arms and abs were very evident in his latest release Tiger Zinda Hai as well.
Angad is a big believer in the power of healthy food and a good, balanced diet for achieving body goals. He firmly believes that abs are made in the kitchen. In an interview with a prominent men's magazine, Angad had said that he believed that everyone should have a meal plan that they can actually stick to, instead of force-feeding themselves tasteless low calorie meals. From what we can see from a bit of Insta-stalking, Angad is a big fan of Indian beverages- masala chai and filter coffee.
Neha Dhupia: Diet and Fitness Secrets
Neha Dhupia has had a great year so far, with two super-hit TV shows in her kitty. Neha has been shooting for the latest season of Roadies in the northeast of India, and her Bollywood celebrity talk show has also had a great first season. Neha follows a relatively simple diet and fitness regime. Her daily diet involves a lot of good quality carbohydrates, as well as fresh fruits and vegetables. Her day starts with a glass of lemon and honey with warm water and she has a glass full of beetroot, carrot and apple juice every day, before hitting the gym.
For workouts, she prefers yoga and loves mixing it up to keep herself involved in the workout. Neha Dhupia believes that yoga is an ideal workout because it is great for the overall well-being. Neha believes in eating clean, organic food and her meals never contain anything that has come out of a can. She loves indulging in ghar ka khana and that she says, is because homemade meals are completely free of preservatives. One diet secret that helps Neha stay in shape is her habit of having dinner before 7 p.m. and she only has grilled vegetables of salad for dinner.
As details about the wedding as well as the wishes continue to pour out onto the interweb, we would like to add ours to the pile and say, may Neha Dhupia and Angad Bedi have a happy married life!