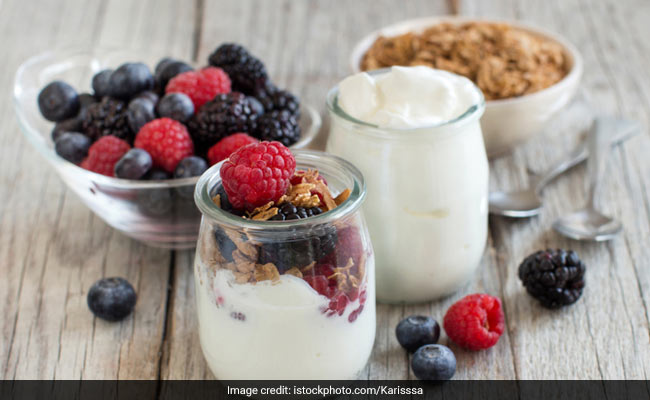 According to a recent research published in the journal BMJ, the bacteria in our gut with probiotics may help prevent indigestion, while there are some other studies that talk about the benefits of probiotics that may extend beyond the gut. As per a 2018 study published in the journal Brain, probiotics may help boosting immunity and lower the inflammation levels in the body. But, what are probiotics and what are the best sources of probiotics, let's explore. Probiotics are basically live bacteria that are beneficial for our body's functioning and our health. Many probiotics are similar to bacteria that are naturally living in our body. These days, people are opting for many probiotic supplements, but one can also get them from fermented foods. Here is a list of 10 probiotic foods that can help improve digestion and boost immunity.
1. Yogurt
Yogurt, or curd (dahi), is one of the best available and natural probiotic foods that you can add to your daily diet. Include a bowl of curd with lunch every day to maintain a healthy gut flora. You can eat it alone or can top it up with antioxidant-rich fruits like strawberries, blueberries and apples.
2. Kefir
If you are lactose intolerant, then try kefir. It is one of the best sources of probiotics, only next to yogurt. You can drink this tangy drink alone or pair it with fresh fruit, or add it to a smoothie.
3. Idli
Love south Indian food? You must be happy to know that most of the south Indian dishes are a rich source of probiotic. Idli, dosa and other such food items are prepared by fermenting rice and lentils. By undergoing fermentation, the bio-availability of its minerals increases, helping the body assimilate more nutrition.
4. Indian Cheese (Paneer)
Although most types of cheese are fermented, it does not mean that all of them contain probiotics. Indian cheese, or paneer, is a rich source of probiotics. You can consume raw cottage cheese with black pepper or add it to your salads for its milky flavour.
5. Fermented Soybean - Akhuni
Akhuni is a fermented soybean cake, which you can have it mixed with chillies in chutneys (pickle) or added in meat dishes. It is nothing but a fermented, dark-coloured semi coarse paste of soya beans, which has a strong, sharp flavour.
6. Miso
Miso is a fermented soybean paste and a popular Japanese seasoning. Rich in several important nutrients, miso may reduce the risk of heart-related problems. Miso or even the soy sauce are quite popular in Indian homes, which add a burst of umami and flavour to anything you are cooking.
7. Green Peas
Now, you must be wondering how come green peas have made it to this list. According to a study published in the Journal of Applied Microbiology found that green peas contain Leuconostoc mesenteroides, which is a potent probiotic, often associated with fermentation under low-temperature conditions. So, what are you waiting for, add green peas to your pasta, salads, and omelettes.
8. Kimchi
We all have tasted kimchi salad at least once while dining at a Chinese restaurant. It is an Asian fermented foods veggie dish, made with cabbage, radishes, and scallions. The unique strains found in kimchi will not only heal your gut, but may also help you stay in shape.
9. Pickles
Pickles are another classic fermented foods veggie option. However, not all pickled vegetables are fermented. Therefore, make sure that the pickled veggie you are eating is, in fact, fermented-and not just pickled. You can make your own fermented pickles and other veggies at home with these easy pickle recipes.
10. Buttermilk
If you don't like or prefer eating curd, you may consider buttermilk. There are two main types of buttermilk: traditional and cultured. Traditional buttermilk is nothing but a leftover liquid from making butter, which contains probiotics. However, cultured buttermilk does not have any probiotic benefits.
Disclaimer: This content including advice provides generic information only. It is in no way a substitute for qualified medical opinion. Always consult a specialist or your own doctor for more information. NDTV does not claim responsibility for this information.