Highlights
People across the globe will be celebrating Halloween on 31st October
It falls a day before All Saints Day or All Hallows Eve
Halloween tradition involved carving pumpkins into jack-o-lanterns
People across the globe are celebrating Halloween today, and its time to get spooky. The word Halloween comes from Hallowe'en, which translates to "hallowed evening" or holy evening. It is believed that Halloween traditions commenced from Celtic Harvest festivals of Samhain, while some people believe that it began independently as a Christian festival. Samhain was an observance of the end of the harvest season that means summer's end. It falls a day before All Saints' Day or All Hallows Eve, which honours the saints and martyrs, followed by All Souls Day, when the departed are remembered.
As a part of the celebrations on Halloween, people adorn spooky dresses, carve jack-o'-lanterns, light bonfires, trick-or-treat friends and family, visit haunted attractions, play pranks and narrate spooky stories. Hundreds of years ago in Ireland, Halloween tradition involved carving pumpkins into jack-o'-lanterns in order to scare the evil spirits passing away through the Irish farms, since then it has become a vegetable synonymous to the festival, which is mostly celebrated by Americans.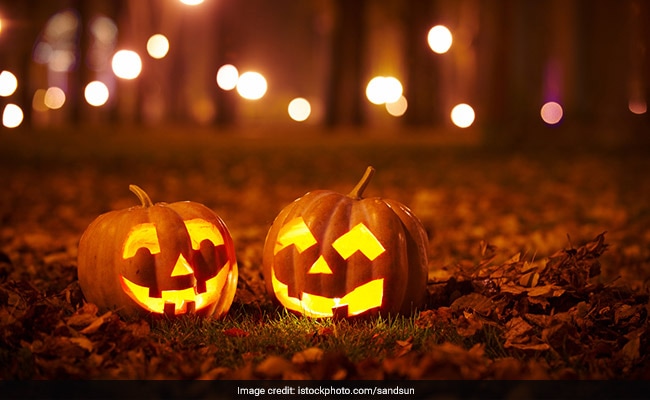 As a part of the celebrations on Halloween, people adorn spooky dresses
Initially, it was turnips that were hollowed out and Irish people made scary faces and placed them in the fields in the hope that these spooky faces would guard the fields from evil spirits. It was believed that the boundaries between spirits and our world became intertwined on Halloween and this scared the Irish population. When Irish immigrants came to America, they discovered pumpkins to carve the scary faces as they were easier to carve and this is how they started observing the festival making it a tradition of carving out jack-o'-lanterns.

Halloween 2017: Pumpkin Recipe to Savour this Halloween
Pumpkin ghost cake
Chef Sandeep Rane, Henpecked, Kalaghoda
Preparation time: 35 to 45 minutes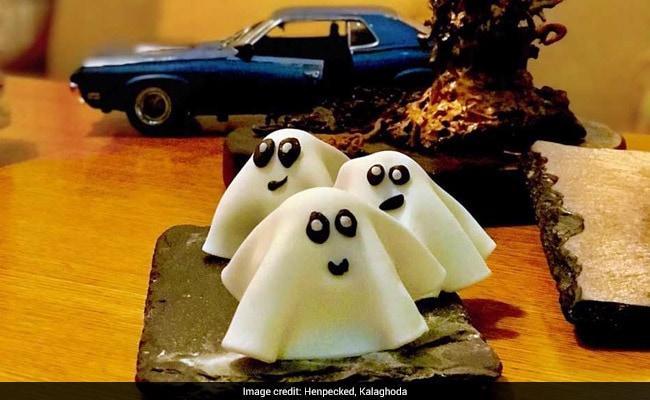 Ingredients
50 grams Butter
85 grams caster sugar
100 grams flour
1 egg
1.2 grams Baking powder
5 Pumpkin seeds
5 grams Pumpkin puree
Raspberry Gel
50 grams raspberry puree
12 grams icing sugar
5 grams Fresh raspberry
Method
Soft the butter add caster sugar mix well,
Now add all dry ingredients and sieve and keep it on side,
In the butter sugar mix start adding egg one by one and mix gently,
Now add pumpkin puree and mix
Add dry ingredients in 3 parts and fold using plastic spatula
Now cake mix is ready, fill in round cupcake mould and bake it at 170 degree for 8 minutes.
Method raspberry gel
Mix all ingredients in jug and blend it using blender.
Assembly
After baking pumpkin cake fill raspberry gel in center using piping bag.
Now cover the cake with round sugar past sheet
Make funky eyes and face with black sugar paste and stick it.
Be your spooky best and make this Halloween enjoyable and fun!