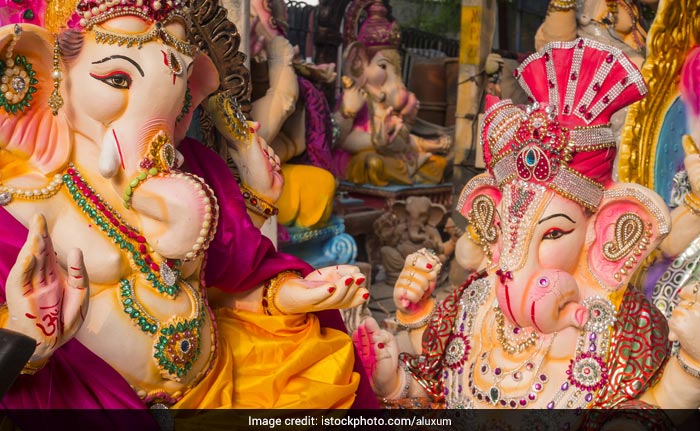 Highlights
Ganeshotsav or Vinayaka Chaturthi is celebrated all over India
It is observed by installing Lord Ganesha's idol at homes for 10 days
Lord Ganeshas homecoming is celebrated in the month of Bhadra
Happy Ganesh Chaturthi!
Ganesh Chaturthi is a festival that celebrates the homecoming of Lord Ganesh as he leaves Mount Kailasha and enters our homes to bless us with happiness and prosperity. Indians welcomed him on 25th August, 2017 with much fervour and excitement. Lord Ganesh's homecoming is celebrated in the month of Bhadra, according to the Hindu Luni-Solar calendar, which typically falls in the months of August or September. The festival ends on the tenth day of bringing him home, to signify his return to Mount Kailasha to his parents Goddess Parvati and Lord Shiva. This year,
Ganesh Chaturthi 2017
started on 25th August and ends on 5th September. Of all the festivals in India, Ganesh Chaturthi is one of the most colourful and exciting 10-day long celebrations. Ganeshotsav or Vinayaka Chaturthi is celebrated all over India with a lot of enthusiasm in order to commemorate Lord Ganesh's birthday. Ganesh Chaturthi is observed by installing Lord Ganesh's idol at home for a period of 10 days after which it is immersed in the river. This Ganesh Chaturthi let us get to know the festival in detail - its significance and other associated rituals and traditions.
Ganesh Chaturthi 2017: Significance and History of the Festival
The auspicious festival of Ganesh Chaturthi is celebrated with much fervor and joy in the states of Maharashtra, Goa, Kerala and Tamil Nadu. Out of all the stories that are linked with the history of this festival, the most relevant one is associated with his parents Lord Shiva and Goddess Parvati. It is believed that Goddess Parvati created little Ganesh using the dirt off her body while having a bath and sent him to guard the door while she was bathing. Lord Shiva, who had gone out, returned at that time. Unknowingly, little Ganesh stopped him from entering. An enraged Lord Shiva severed the head of the little child after a heated argument. Looking at an angered and vexed Goddess Parvati, Lord Shiva promised her to give Ganesh a new life. The followers were sent to search for a head; however all they could bring was a head of an elephant. Lord Shiva fixed the elephant's head on the child and brought him back to life. That's how he was named Gajanan.


​(Also read:
Ganesh Visarjan Significance, Procedure, Mahurat Timings and Tithi
)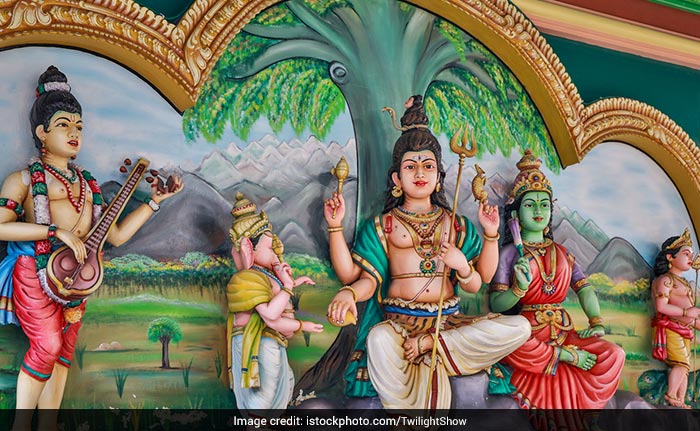 The auspicious festival of Ganesha Chaturthi is celebrated with much fervor and joy

How do We Celebrate Ganesh Chaturthi?
Two-three months before the festival, beautiful clay models of Lord Ganesh are made by skilled artisans and sold in the markets. These beautiful statues depict Lord Ganesh in various poses. On the day of Ganesh Chaturthi, these statues are brought home with lot of excitement. For the next 10 days, localities witness beautiful pandals with huge statues of Ganesh. The priests in every pandal perform four main holy rituals- first being Pranapratishhtha to invoke life into the statues amidst the chanting of sacred verses. The ritual is then followed by Shhodashopachara- 16 forms of paying tribute to the Lord. Next one is Uttarpuja, which is a pooja in which the idol could be shifted from one place to another and the last ritual is Ganpati Visarjan, which is the immersion of the idol in water. The visarjan is followed by loud chanting of "Ganpati Bappa Morya, Pudcha Varshi Lokar Ya", which means 'Lord Ganesha, come back soon next year.'
Ganesh Chaturthi 2017: What Should be Offered as Prasad and Bhog
Sweets and savories like modak, jaggery and coconut are offered to the deity. It is believed that Lord Ganesh loved modak which is a sweet dumpling made from rice flour mixed with coconut and jaggery. The plate containing modak is supposed to be filled with 21 pieces of the sweet, while offering it to the idol as Bhog.


(Also read:
Ganesha Chaturthi 2017: Why Ganesha Loves Modak?
)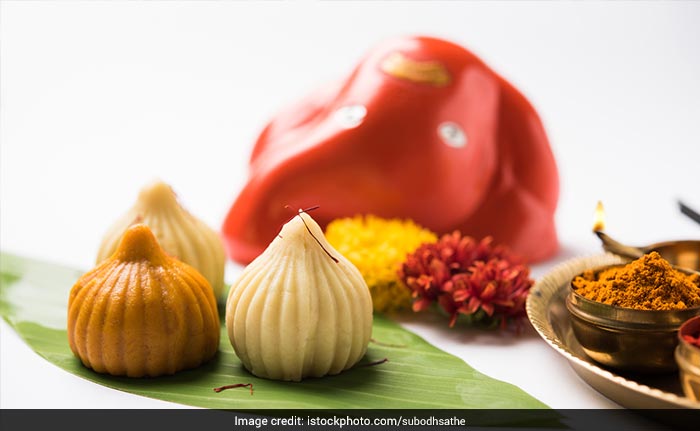 Sweets and savories like modak, jaggery and coconut are offered to the deity.
Why is Moon Sighting Prohibited on Ganesh Chaturthi?

As legend has it, anyone who sees the moon on Ganesh Chaturthi creates Mithya Dosham or Mithya Kalank for the person. According to the Puranic beliefs, Lord Krishna was fallaciously accused of stealing the precious jewel Syamantaka as he had sighted the moon on the day of Bhadrapada Shukla Chaturthi, because of which he was cursed with this false accusation. It was then, Lord Narada informed Lord Krishna that Lord Ganesh had cursed Chandra (moon) that whoever would sight the moon on this day will be cursed with Mithya Dosham and would be dishonoured in the society.

Ganesh Chaturthi 2017: Ganesh Isthapna

Madhyahna Ganesh Pooja Time- 11:25 am to 13:57 pm
On 24th August, Time to Avoid Moon Sighting- 20:27 pm to 21:02 pm
On 25th August, Time to Avoid Moon Sighting- 09:29 am to 21:41 pm
Ganesh Chaturthi 2017: Ganesh Visarjan
Ganesh Visarjan on Anant Chaturdashi Day
Auspicious Choghadiya Mahurat for Ganesh Visarjan
Morning Mahurat (Char, Labh, Amrit) - 09:32 am - 14:11 pm
Afternoon Mahurat (Shubh) = 15:44 pm - 17:17 pm
Evening Mahurat (Labh) = 20:17 pm - 21:44 pm
Night Mahurat (Shubh, Amrit, Char) = 23:11 pm