The month of September is here and with it comes a time of festivities too. On 12th September, Hindu women across Rajasthan, Uttar Pradesh and Haryana celebrated Teej, a festival celebrated by married women with great fervour. The very next day, that is on 13th September, 2018, the Ganesh Chaturthi festival celebrations started with full swing. Ganesh Chaturthi or Vinayak Chavithi is one of the most widely celebrated festivals of the country and celebrated with much enthusiasm and fervour in states like Maharashtra, Goa, Karnataka, Tamil Nadu and Telangana. Ganesh Chaturthi or Vinayak Chaturthi is celebrated in honour of Lord Ganesha, son of Lord Shiva and Goddess Parvati. Vinayaka Chavithi is celebrated over a period of ten days. During these time, it is said that Lord Ganesha descends from heaven to take shelter in the houses of his beloved devotees. Some people bring clay idols of Lord Ganesha into their homes, deck him up in beautiful clothes and jewellery and worship him with an array of sweets and flowers. Those who are not able to install the idol of Ganesha at their homes, visit Ganapati pandals to take part in the festivities.
According to scriptures, Lord Ganesha was very fond of sweets and would enjoy them a great deal. Legends state that Goddess Paravati would make him delicious sweetmeats and savouries daily and he would gobble them up in no time. Modak, a sweet dumpling delicacy is said to be his particular favourite. He was fond of ladoos, and halwa too.
On Ganesh Chaturthi or Vinayaka Chavithi, devotees make multiple offerings to Lord Ganesha as part of prasad, here are some of the best dishes you can prepare this time around.
1. Modak
Modak to Ganesh Chaturthi is what kaju katli is to Diwali, or ghewar to Teej. The festive staple is basically a steamed sweet dumpling made of refined flour, usually stuffed with coconut and jaggery. Modak is quite delicious and appealing to the palate. However, there are many varieties of modak that are available in market nowadays like chocolate modak, dry fruit modak, and mango modak. Here's how you can make chocolate modak at home. Chocolate modak is sure to be loved by kids and adults alike.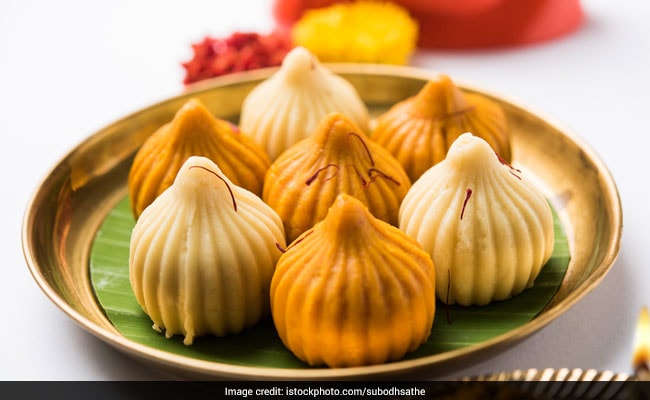 2. Poha Gur Laddoo
These laddoos made of flattened rice (also called poha and chiwda) and jaggery (gur) are a culinary delight and so easy to make too! Roast your poha in low flame till they turn brown. Put these roasted flattened rice into a mixer grinder. Grid them well with some powdered jaggery. Grind till you get slightly coarse mixture similar to that of sooji. Take out the mixture from grinder and keep it aside. In the other pan heat a tablespoon of ghee, add some dry fruits of your choice if you want, a pinch of cardamom powder and mix well. Now add the poha and jaggery mix to this pan. Add some more ghee until you get a sticky mixture, add some milk if you do not get the desired consistency to mould firm ladoos. Make sure you do not dilute it too much. Allow it to cool. Mould them into round ladoos.
3. Besan Laddoo
Another festive favourite, besan ladoos are made from gram flour, or besan, and oodles of ghee, these are then flavoured with sugar and cardamom. Apart from Ganesh Chaturthi, besan ladoos are quite a hit in other festivities like Rakhi, Holi and Diwali too. The fact that it is so easy-to-make, may have added to this massive popularity of the sweet. Here's a recipe that can help you make some besan ladoosat home. Besan ke laddoos are quite appealing to the palate as well.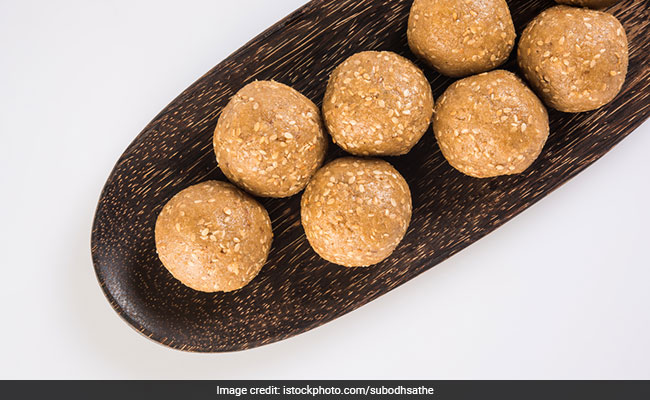 4. Banana Halwa
Bananas, ghee, sugar and cardamom, that pretty much all you need to prepare this delicious festive delicacy at home. Look no further, for we have got a fantastic recipe to help you out too.
5. Apple Basundi
Fresh, fruity and delightful, a spoonful of apple basundi is loaded with richness and flavours that are sure to make your day. Basundi is sweet thickened milk , flavoured with cardamom, dry fruits and nut meg, similar to rabri. In apple basundi, you just need to add a cup of grated apples to your regular basundi or rabri recipe and you are good to go.

6. Badam Halwa
Made with just almond paste, this rich and delicious delight is cooked to perfection in milk. They are best enjoyed piping hot with chunks of sliced almonds.
7. Poori with Batata bhaji
Dry potato sabzi tempered with mild spices accompanied with puffy and piping hot pooris makes for a delicious savoury staple of Ganesh Chaturthi celebrations. You can offer this as part of bhog to the God, and enjoy it later with friends and family too.
8. Varan Bhat
Varan Bhaat is one of the most significant delicacies of Ganesh Chaturthi celebrations. Varan translates to lentil curry or dal, and bhaat translates to steamed rice. Varan is offered to lord Ganesha along with vegetable dishes including batata (potato) bhaji, beans bhaji etc. The varan is made with a mix of moong dal and arhal dal along with curry leaves, grated coconut and cumin seeds. The simple dish is considered as an important bhog for the deity.
9. Chawli Usal
Chawli translates to black eyed beans or lobia in Hindi. It is best enjoyed with steamed rice along with a side of coconut-based vegetable dish. Chawli Usal is made from chilli powder, turmeric powder, garam masala, grated coconut, unsweetened desiccated coconut and oil.
Here's wishing you all a very Happy Ganesh Chaturthi 2018!
Get Breaking news, live coverage, and Latest News from India and around the world on NDTV.com. Catch all the Live TV action on NDTV 24x7 and NDTV India. Like us on Facebook or follow us on Twitter and Instagram for latest news and live news updates.