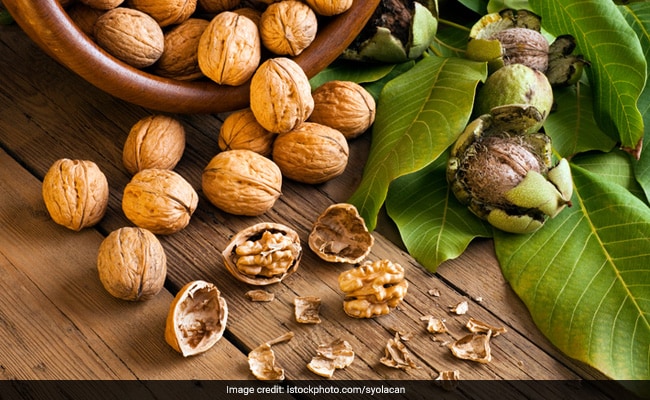 Highlights
Walnuts boast of numerous health benefits
Walnuts may now be beneficial for digestive health
walnut-rich diet can also be effective in losing weight
Walnuts boast of numerous health benefits and now you have another reason to add them to your daily diet. According to the researchers at Louisiana State University, consumption of walnuts may be beneficial for digestive health by increasing the amount of good probiotic-type bacteria in the gut. Walnuts act as a pre-biotic (promoting the growth of beneficial microorganisms) to help grow and nourish the bacteria, further keeping the digestive system healthy.
"Gut health is an emerging research area, but we are seeing that greater bacterial diversity may be associated with better health outcomes, whereas low diversity has been linked to conditions such as obesity and inflammatory bowel disease," said lead researcher Lauri Byerley, PhD, RD Associate Professor of Research in the Physiology Department at Louisiana State University.
The study was carried out on rats, who were randomly assigned to a diet consisting of ground walnuts equal to about half a cup per day, and a diet without walnuts for up to 10 weeks. Those rats who consumed a walnut-rich diet saw an increase in good bacteria and in the other case, it remained the same.
"The health of the gut is related to overall health in the rest of the body," said Byerley. "Our study is showing that walnuts change the gut, which could help explain why there are other positive health benefits to eating walnuts such as heart and brain health."
How Do Walnuts Help?
According to the researchers, the bioactive components of walnuts may be contributing factors in providing these health benefits. They also contain a significant amount of alpha-linolenic acid (ALA), plant-based omega 3 fatty acid and are power-packed with significant amount of protein and fiber. The studies still need to understand the effects of walnuts on humans; however, the results have shed some light on a new way that walnuts may be beneficial for health.
Earlier studies published in Journal of the American Heart Association had found out that a walnut-rich diet can be effective in losing weight and improving cholesterol level.