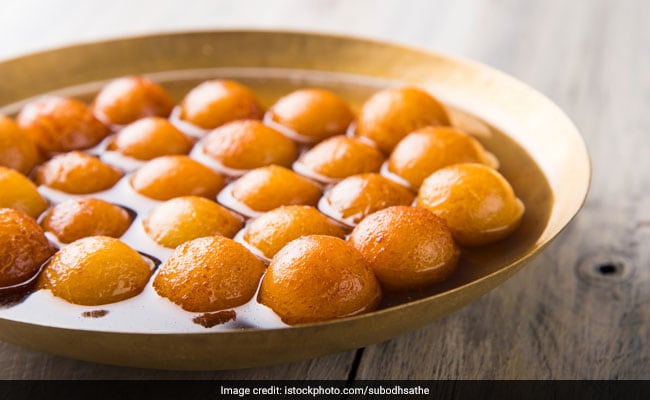 Highlights
Dussehra sweets can be great gifting ideas or made for prasad
Nariyal Barfi is one of the easiest Dusshera sweets to make
Try something new with a royal shahi tukda to impress everyone
The festivities for Dussehra 2017 have begun and it's the perfect time to stock up on some Dussehra sweets that you can serve your guests or enjoy with your family to celebrate the festival. The nine days of Navratri that culminate with Dussehra are enjoyed with lots of rituals, traditions and of course, delicious treats. No Indian festival is complete without a platter of our beloved sweets. Dussehra is a time when you meet and greet your friends and relatives and celebrate together. In India, sweets are often prepared to commemorate an auspicious occasion and bring good luck. These Dussehra sweets can be great gifting ideas, can be prepared ad Prasad for the Pooja or simply enjoyed to sweeten your day.
1. Besan Ladoo
Recipe by Chef Roopa Gulati
Besan
ladoos
are one of the most commonly prepared Dussehra sweets.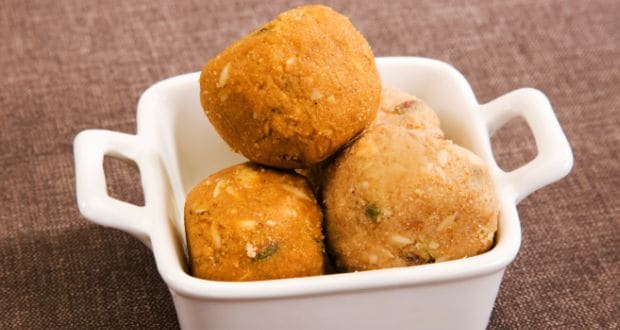 Make besan ladoos at home with this easy recipe.
2. Badam Halwa
Recipe by Chef Roopa Gulati
A rich and nutty delight made with lots of almonds, khoya, poppy seeds, milk and cardamom to infuse a warm flavour.
3. Nariyal ki Barfi
Recipe by Chef Niru Gupta
A sweet and chewy treat made with fresh desiccated coconut and
khoya
. This is one of the easiest Dusshera sweets to make and it requires very few common ingredients.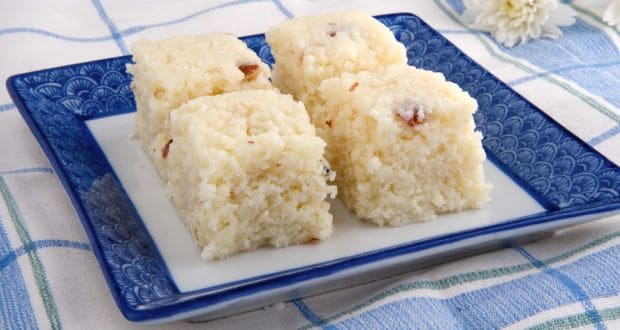 Nariyal Barfi is one of the easiest Dusshera sweets to make.
4. Kheer Khas Khas
Recipe by Chef Marut Sikka
Kheer is loved by all and every festival is incomplete without it. Try this version of a rice kheer flavoured with rose water and nuts.
5. Jaggery Rasgulla
Recipe by Chef Kasiviswanathan, Radisson Blu Atria Bengaluru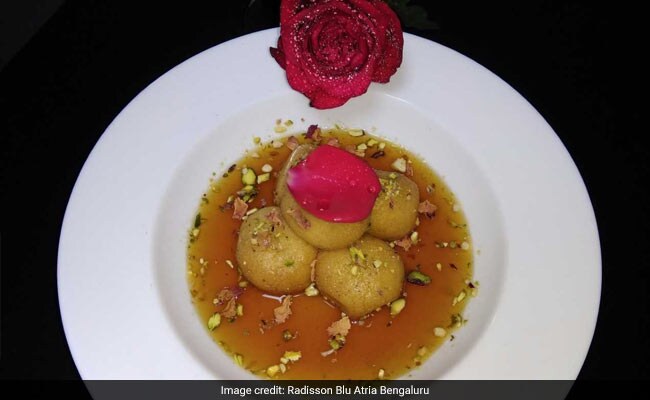 Soft and spongy
rasgullas
are dipped in a silky smooth syrup made with jaggery. It is an absolute festive treat.
Ingredients:
Milk: 1 littre
Jaggery: 2 kg
Lemon juice 1 table spoon
Water: 800 ml
Method:
1. Add milk in a heavy bottom pan and let it simmer for a few minutes
2. Add lemon juice to curdle the milk.
3. Strained the curdled milk in a muslin cloth and drain all the excess water.
4. Mash it till it turns smooth mixture. Make small balls of it and keep aside.
5. In another pan, boil water add jaggery to make the syrup.
6. Once the syrup is ready, add the small balls in it and let it simmer on low heat for about 20 to 25 minutes.
7. Take it off heat and let it cool down before serving.
6. Mawa Coconut Roll
Recipe by Chef Kasiviswanathan, Radisson Blu Atria Bengaluru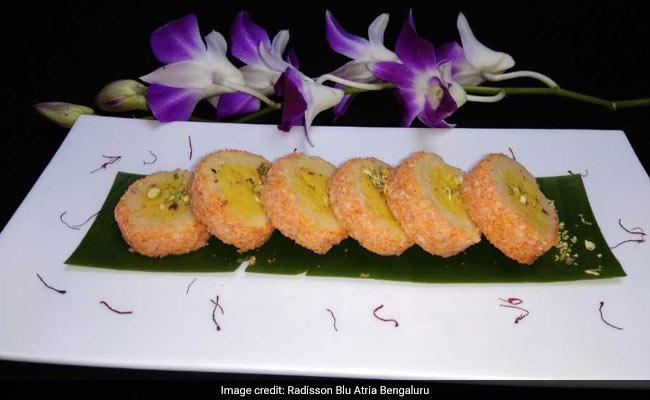 This time around, try this new and innovative Dussehra sweet. Coconut and
khoya
are rolled into an interesting sweet flavoured with saffron.
Ingredients:
Khova ( plain ): 1 kg
Sugar: 300 gm
Saffron: 1 gm
Coconut powder: 100 gm
Method:
1. Take heavy bottom pan, heat the khova with sugar, and cook till the sugar gets dissolves. This will take at least 20 minutes.
2. Once it gets thick, let it cool.
3. Later, divide it into two portions.
4. Take one portion and make it flat with the help of a rolling pin.
5. Take the other portion and add little saffron to it. Mix it thoroughly, make it smooth and flat with a rolling pin and place it in top of first portion.
6. Now, roll the portion below gently in a cylindrical shape.
7. Coat it with coconut powder.
8. Cut into a round shape and serve.
7. Shahi Tukda
Recipe by Chef Aditya Bal
This royal dessert if fit for a grand festive celebration. It is made with basic ingredients like bread, milk and nuts but it is unique in the way it is prepared and tastes just too good.
8. Motichoor Ladoo with Rabri
Recipe by Chef Vinay Thakur, Foreign Dhaba Bistro & Bar
An interesting way to serve the quintessential
motichoor ladoos
- warmed and dipped in a cold and creamy homemade
rabri.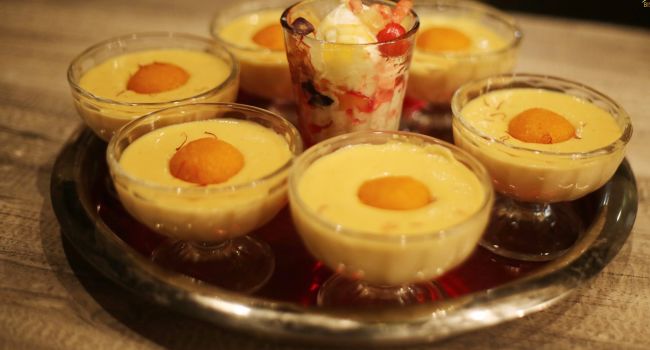 Ingredients:
4 motichoor ladoos
1 litre milk
70 grams of khoya
100 grams of sugar
Pinch of kesar
Method:
1. Pour milk in a kadai and start heating the milk on a low to medium flame.
2. Keep simmering the milk till the milk reduces to half of its quantity and creamy layer is collected on the sides.
3. Add sugar and khoya to it. Stir well and let it simmer for some more time before turning the flame off.
4. Add kesar on the top, let it return to room temperature and then refrigerate it for atleast 2 hours.
5. Put cold
rabri
in a bowl. Warm a motichoor ladoo and then dip it in the
rabri.
These homemade Dussehra sweets will add a special touch to your festivities. Try them and home and surprise your friends and family.
Happy Dussehra 2017