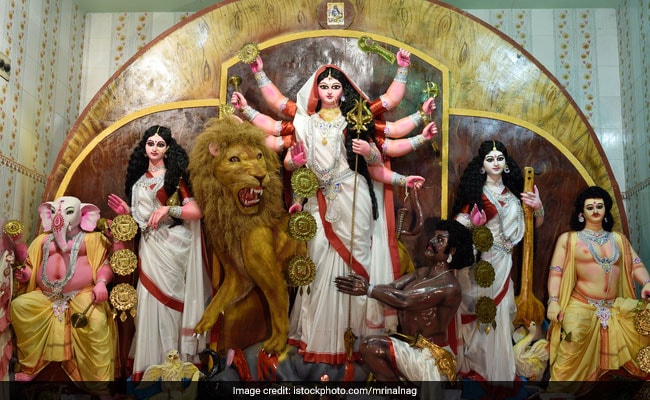 The season of festivals are here again! Hindus across home and abroad are celebrating Durga Puja and Navratri. Navratri is dedicated to the worship of Goddess Durga by offering her prasad and bhog of fruits and sweets. Some of them also observe the ritualistic Navratiri fasts to please their beloved deity. Several special vrat recipes take the centre-stage in the fasting household. The eight day of Navratri is called Ashtami, and several Hindus consider the day to be the most important day of all the nine days of Navratri. This date for Ashtami 2017 this year round is 28th September 2017.


Here are Ashtami Puja, Date and Time
Ashtami Tithi begins=7:08 PM on 27th September 2017
Ashtami Tithi Ends=9:36 PM on 28th September 2017

Durga Ashtami 2017 or Mahashtami Significance
In Bengal and adjacent states especially, Durga Ashtami holds immense significance in Durga Puja celebrations. Devotees adorn themselves in new clothes and gather in the pandals early in the morning. Several pandals also follow the practice of offering a special 'Ashtami Bhog'. Among all three days of Durga Puja, (Navami, Ashtami and Dashmi), there is a ritual of serving delicious bhog to the devotees on large scale. Khichdi, mixed vegetable, papad, tomato chutney, roshogolla and payesh are some of the staples you would find in a typical Durga Puja bhog. On the day of Ashtami, the bhog has special additions most common being rice in place of khichdi,chana dal, a curry of paneer, mixed vegetables, begun bhaja, tomato chutney, papad, rajbhog and the delectable payesh.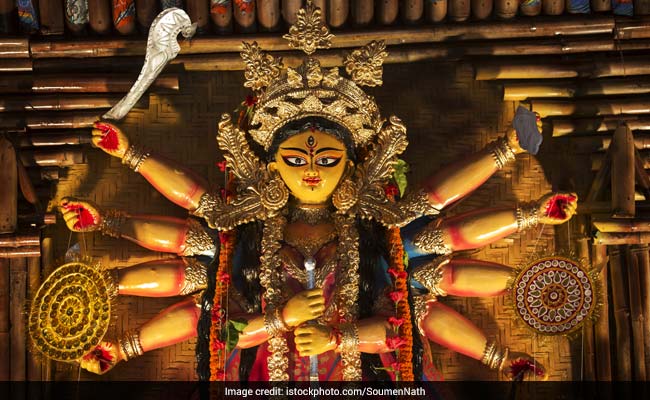 Several special rituals take place on the day of Ashtami, like the famous 'Astra Puja', which is a custom to worship Goddess Durga's weapons with which she defeated the powerful buffalo demon Mahisasura.
It is said that it was on the day of Ashtami, after a long drawn battle between Goddess Durga and Mahishasura, Goddess Kali appeared from Durga's forehead to annihilate Mahishasura's demons - Chanda, Munda and Rakthabija. Therefore on this day, Ashta Nayikas, or the eight forms or incarnations of shakti together forming the divine power are worshipped in the form of Durga.
Ashtami Puja Rituals and Sandhi Puja
The Ashtami puja begins with the Mahasnan or the great ritualistic bath, which is followed by the Shodashopachar Puja. In this puja, nine earthern pots are placed in the centre and worshipped. The ritual is said to invoke the nine shaktis of Durga.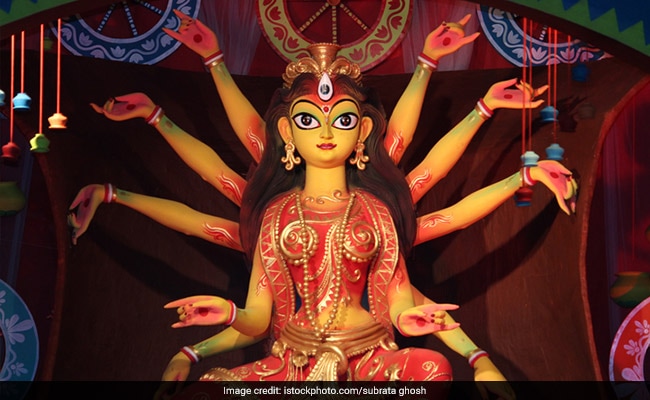 Sandhi Puja on Ashtami 2017
Around evenings, another grand puja is performed with a lot of enthusiasm. This puja is called the Sandhi Puja, which is performed in an auspicious time called the Sandhi time. The auspicious time often falls in the last 24 minutes of Ashtami or first 24 minutes of Navami. The time is said to be the peak point of the pious night of Ashtami, hence it is celebrated with much fervour. 108 earthen lamps are lit during the Sandhi time as a customary ritual to invoke the blessings of the goddess.
Kanya Puja, Kumari Puja or Kanjak on Ashtami 2017

Another common ritual followed across the country is that of Kanya pooja or Kanjak. In Kanjak or Kanya Puja, nine girls are welcomed into the house by first washing their feet and then tying moli (red thread) around their wrists. These girls are seated in a line and given halwa, poori and chole (also known as 'bhog') along with all kinds of gifts: pencil boxes, hair clips, clothes etc. These young girls that haven't yet hit puberty are seen as the embodiment of goddess Durga. Devotees often choose the Mahashtami day to perform the rituals, while some follow the ritual on the day of Navami.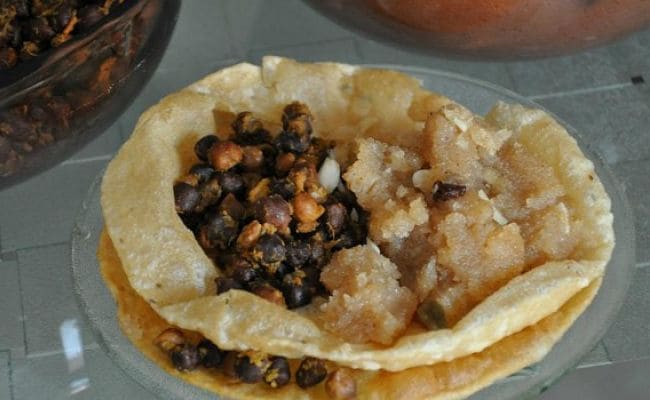 This year Ashtami or Mahashtami falls on - 28th September 2017
Wishing you all a very Happy Navratri 2017