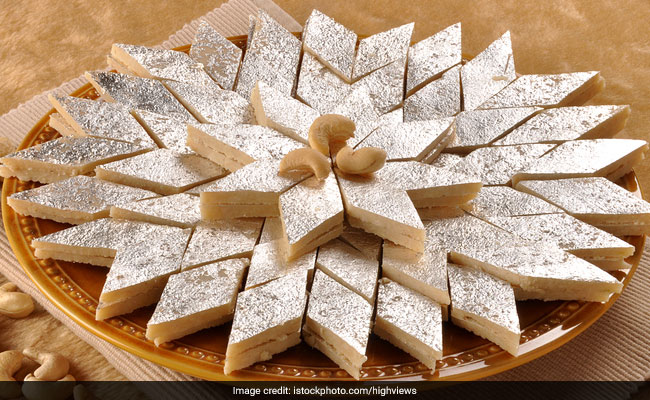 Highlights
Navratri 2017 has commenced and is slated to end on 29th September
A common question often asked is whether or not you can have kaju katli
Those who are fasting, need to follow certain dos and don'ts
Hindus across India are celebrating Sharad Navratri 2017, a nine-day long festival that will end on 29th September, 2017. Devotees of Goddess Durga are celebrating the nine-day festival with much grandeur and an important part of the celebration is keeping the Navratri fast or
vrat
. During these nine days, thousands worship Goddess Durga and seek her blessings. While some people fast for all nine days, others observe the fast for 2 days only - either on the first two days of Navratri or the last two days. Those who are fasting, are advised to follow
certain dos and don'ts
. For instance, some foods including grains, common salt, alcohol and non-vegetarian items are strictly avoided, while one can enjoy fresh fruits, certain vegetables, milk-based products, dry fruits and special
vrat
ingredients like
saboodana, kuttu
flour
or
singhara atta.

A common question often asked is whether or not you can have kaju katli while fasting during Navratris? Kaju katli is a popular Indian mithai usually prepared during festivals and special occasions. It is made with cashew nuts, milk, and sugar and is decorated with silver varq. While nuts and milk can be had during these fasts, there seems to be some confusion regarding the consumption of kaju katli.

(Also read: 8 Foods You Should Avoid While Fasting During Navratri)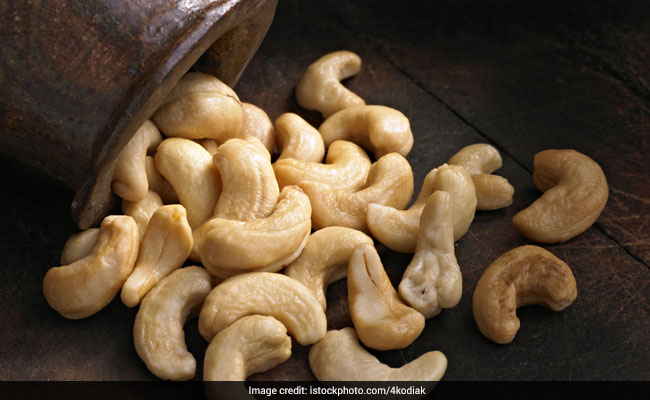 Navratri 2017: A common question often asked is whether or not you can have kaju katli while fasting

Kaju Katli literally translates to a cashew slice. In some preparations, people may use liquid glucose which is referred to as sugar syrup to sweeten the
mithai
. This syrup is generally made from wheat, potatoes, rice, barley, corn or other grains that may not be suitable for people observing Navratri fasts. The varq which is used to decorate the
mithai
is made by pounding gold or silver into fragile sheets which are also not generally recommended to be consumed during Navratri fasts.
According to Chef Manjusha Sinha who organizes Manjusha's Cooking Classes in Gurugram, "We can enjoy Kaju Katli only if it is made at home. Homemade Kaju Katli can be customized while the one from a sweet shop cannot be as it may have liquid glucose as well as silver varq to make it look appealing. To avoid this, you can easily make it at home with kaju, sugar, water and kesar."
So, you can definitely enjoy Kaju Katli only if it is homemade. If you are wondering how to make this delectable sweet at home, here's an easy recipe of Zafrani Kaju Katli by Chef Ajay Chopra that you can try to enjoy this treat while fasting.

Zafrani Kaju Katli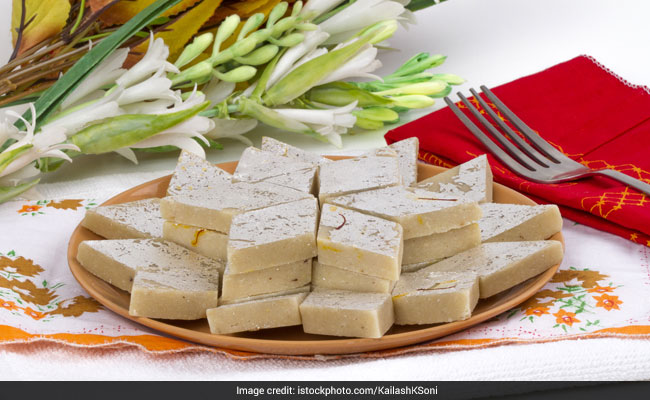 Navratri 2017: Make some delicious kaju katlis at home

Ingredients
1 teaspoon saffron
100 gm cashew nuts, broken
6 Tablespoon sugar
1/2 teaspoon green cardamom powder
Method
Grind cashew nuts into a fine powder.
Heat sufficient water in a non-stick pan.
Add sugar and saffron, mix and cook till syrup thickens.
Add cardamom powder and mix well.
Add cashew nut powder and mix well, cook for about 3 minutes.
Spread the mixture onto a thali and let it cool to room temperature.
Transfer mixture onto a worktop and knead a little.
Spread the mixture into a burfi tray; cut into squares and serve.

Happy Navratri 2017!