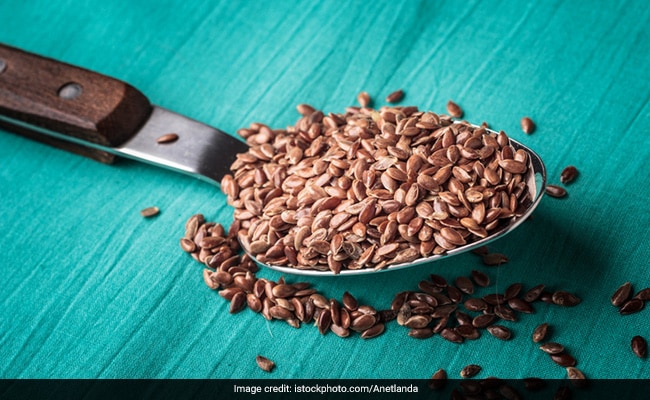 It is World Diabetes Day today. The day aims to spread awareness about the condition, and ways to manage it. Our diet plays a big role in regulating this problem. Guavas, basil seeds, and ginger are some superfoods that are known to stabilise blood sugar. Flaxseeds, too are becoming quite popular with diabetics lately. There must be something about flaxseeds that nutritionists and fitness enthusiasts across the world cannot stop talking about it.
According to the book 'Healing Foods' by DK Publishing, "Flaxseeds are a great source of soluble mucilaginous (gum-like) fibre that can lower unhealthy cholesterol (LDL) and balance blood sugar levels. It also acts like a hunger suppressant and helps you feel full for long. Its high omega-3 fatty acid content can help lower undesirable fats (triglycerides) in the blood, reducing the risk of stroke and heart attack. Flaxseeds are also good for eye health." Flaxseed is one superfood that Indians have been well familiar with as alsi. Flaxseeds or alsi seeds are used in a host of winter preparations like alsi ke ladoo and panjiri as they help keep the body warm.
Did you know flaxseeds are incredible in managing bloods sugar levels and diabetes management too? Diabetes refers to a group of metabolic diseases that result in elevated blood sugar levels. Lack of proper care and attention towards the condition may lead to kidney failure, obesity and cardiovascular problems. Diabetics are often advised to have a special diabetes diet, which includes a host of fibre-rich foods.
Also Read: World Diabetes Day 2018: How Giloy Helps Manage Blood Sugar Levels
Flaxseeds are loaded with fibres. Here's how including them in your diet may ensure stable blood sugar levels:
Diabetes Management: Why Are Flaxseeds Ideal For Diabetics?
"Flaxseeds are known to be one of the best plant-based source of omega 3 fatty acids. They are packed with good quality fibre. I suggest taking 1-2 tablespoons of flaxseeds ina day, preferably in between the meals. Studies have shown that eating a lot of plain flaxseeds could also cause some gastric problems, therefore you can mix them with nuts and have the mixture as your evening snack," says Nutritionist Dr. Ritika Samaddar.

Fibre takes the longest to breakdown and digest, which ensures slow release of blood sugar in the system. A portion of their insoluble fibre is made up of lignans. Lignans have been known to decrease heart disease risk and improve blood sugar control. In a study published in the journal Plos One, participants with type-2 diabetes, who took flaxseed lignans for 12 weeks, witnessed an improvement in haemoglobin A1c.
Also Read: World Diabetes Day 2018: 6 High-Protein Snacks To Manage Blood Sugar Levels
Flaxseeds are also known to reduce inflammation, are good for insulin sensitivity and also promote weight loss by keeping you satiated for long. Diabetics often face problems with their weight management, which makes flaxseeds a sound bet for them.
It is tough to consume whole flaxseeds, which is why you can purchase flaxseeds and grind them yourself at home. You can also make yourself a soothing, low-calorie beverage in flaxseed water.
How to make flaxseed water?
1. In a cup of boiling water, add two tablespoons of flaxseed.
2. Let it boil for two minutes.
3. Use a strainer and pour the water in a glass.
4. Drink your flaxseed water.
Make this miracle drink and discover a natural way to manage diabetes effectively.

Disclaimer: This content including advice provides generic information only. It is in no way a substitute for qualified medical opinion. Always consult a specialist or your own doctor for more information. NDTV does not claim responsibility for this information.