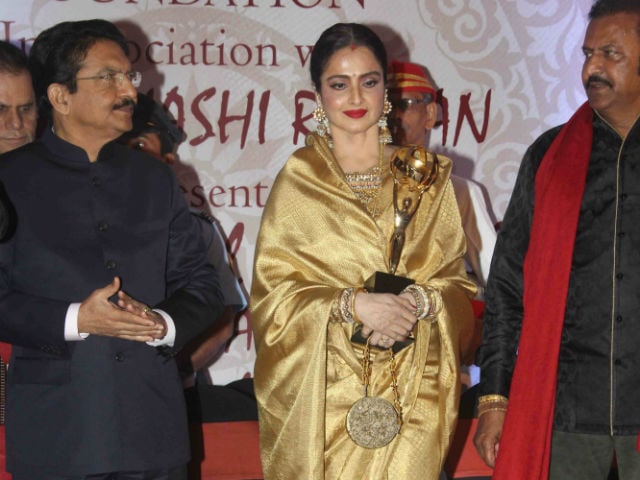 Mumbai:
Veteran actress Rekha, who received the Yash Chopra Memorial Award on January 25, said that the filmmaker taught her how to love and inspired her to write
shayri
.
"Talking about Yash
ji
would be like
chota muh badi baat
. What can we say about him? I would definitely like to state that he taught me how to love. Not just by watching his films (did) I understand 'Oh, this is love', not just by speaking or watching that there is beauty and a very tender emotion, but a feeling that is invisible, which every person definitely feels - that Yash
ji
taught me," said Rekha.
(Also Read:
Rekha Receives Yash Chopra Memorial Award
)Rekha is usually the one who is seen presenting awards to the best actor or actress. On this, she said: "I've always maintained that it's more important for me to give than to receive. I guess I gave my share of the only thing I know of, that is love."
"I take this award, as not just an award or a validation but I think it is like a reminder to say that the curtains have not fallen yet but the best is still yet to come in the near future. And it will definitely be a reminder for me to do better than the best, better than ever before and this is not my last chapter but it is the best chapter, yet to begin," she added.
The actress has featured in Mr Chopra's films such as
Faasle
and
Silsila
, co-starring Amitabh Bachchan and his wife Jaya
ji
.
"Being in Yash
ji
's company, I have become a
shayar
. I've written one
sher
. He inspired me and taught me this," she added and then recited the couplet as well as one of her dialogues which had been written by Gulzar.
The award has been instituted by the TSR Foundation of T Subbarami Reddy in the memory of the producer-director, who died in 2012, to annually honour a distinguished senior film personality for outstanding contribution to the film industry with a gold medal and a cash prize of Rs 10 lakh.
Previous recipients include Lata Mangeshkar and Amitabh Bachchan.