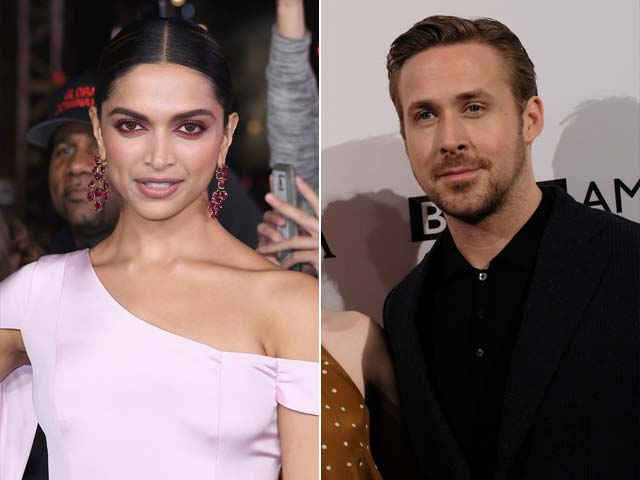 Highlights
'There's so much of La La Land that works,' said Deepika
'Ryan Gosling is definitely someone I want to work with,' she added
Deepika just made her Hollywood debut opposite Vin Diesel
New Delhi:
Deepika Padukone just made her Hollywood
debut with opposite Vin Diesel
, and trust us when we say - this is just the beginning. After having confessed about her apparent crush on
xXx 3
co-star Vin, the 31-year-old actress has already another Hollywood star, who she wants to be in a movie with, in mind. Well, Deepika wants to work with
La La Land
star Ryan Gosling, reported PTI citing an interview to
usatoday
. Talking about Ryan Gosling, Deepika said: "He's absolutely brilliant." Earlier this week, Deepika made this potentially viral confession about Vin: "
We have amazing babies, but in my head
."
Deepika's xXx 3 premiered in India on January 14
and hit screens everywhere else on January 19. Deepika has been busy with promotional duties for her film whereas Mr Gosling was busy celebrating his Best Actor win at the Golden Globes, courtesy
La La Land
. Emma Stone is Mr Gosling's co-star in
La La Land
.
When asked about the award-winning musical, Deepika said: "There's so much of that movie that works: the acting, the honesty, the songs. It's one of those classic love stories that is told in such an interesting manner visually," reported news agency PTI.
Of the
La La Land
star, Deepika said: "He's absolutely brilliant and he's definitely someone I want to work with." Ryan Gosling, are you hearing? Because we can't keep calm at the prospect of such a collaboration.
Meanwhile, Deepika is redefining red carpet fashion at every step. She set the red carpet on fire and the flash bulbs popping when she arrived for the premiere of
xXx: The Return Of Xander Cage
in Los Angeles January 19. Deepika turned heads in a custom made Ralph and Russo gown accessorised with studded earring from the studio of Lisa Eisner.
Deepika also made several debuts on American TV shows -
she appeared on The Ellen Show
and chatted up with
James Corden on his The Late Late Show
. Deepika made many a revelations talking about her crush on Vin Diesel on
The Ellen Show
while she made James Corden groove to the steps of
Lungi Dance
. Here are glimpses from both the shows:
Video: Watch Deepika Padukone and James Corden do
The Lungi Dance
Video: Watch Deepika Padukone on
The Ellen Show
Deepika is expected to be back on the sets of
Padmavati
after finishing up xXx 3 duties. She features in the titular role in the Sanjay Leela Bhansali-directed period drama, also starring actors Ranveer Singh and Shahid Kapoor.