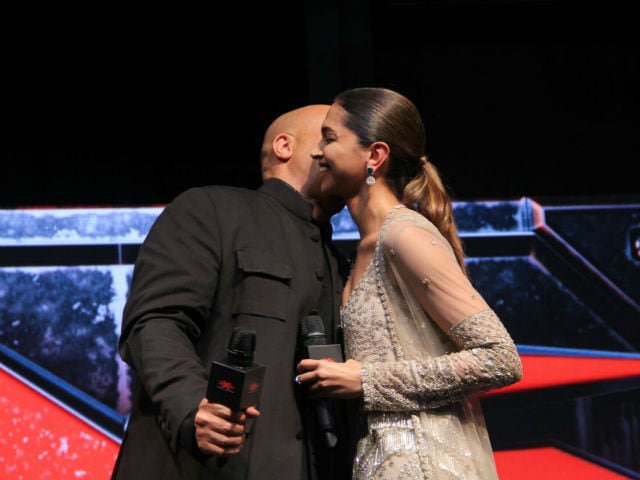 Highlights
"Let me kiss her," said Vin
"I was speechless when I met him," said Deepika
Deepika and Vin were also accompanied by xXx 3 director DJ Caruso
Mumbai:
Actors Vin Diesel and Deepika Padukone
, who are promoting their new film
xXx: The Return Of Xander Cage
in India with director DJ Caruso, exchanged fulsome compliments at a press interaction in Mumbai on Thursday evening. "Let me kiss her," said Vin, 49, about his co-star just a few minutes into the press conference. "I've wanted to work with her for years," Vin said, describing Deepika as a "queen" and an "angel." "I was speechless when I met him. When we started filming, I said he was like a teddy bear," said Deepika. The actors revealed they had met some years ago and noted the chemistry between them. "Working together was our destiny," said Deepika, 31. "One project didn't happen but we both knew this one would," she continued.
Team
xXx: The Return Of Xander Cage
received a
blockbuster Bollywood welcome
when they stepped off their flight in Mumbai this morning - they were greeted by women in traditional
nauvari saris
,
dhols
and
tilak
. "Never seen a reception as I did this morning getting off the plane," Vin said. "Can't tell you how glad I am to be home," chimed in Deepika, adding that she felt proud to represent India on a global stage. Both Vin Diesel and DJ Caruso described being in India as a "dream come true" - the credit for their presence here goes to Deepika Padukone. "When we started shooting she said 'one request, do a big Hollywood premiere in my home country.' The fact that we are here means we've kept our promise," revealed Vin Diesel.
xXx: The Return Of Xander Cage
is Deepika's Hollywood debut and will release in India this weekend, a week ahead of anywhere else.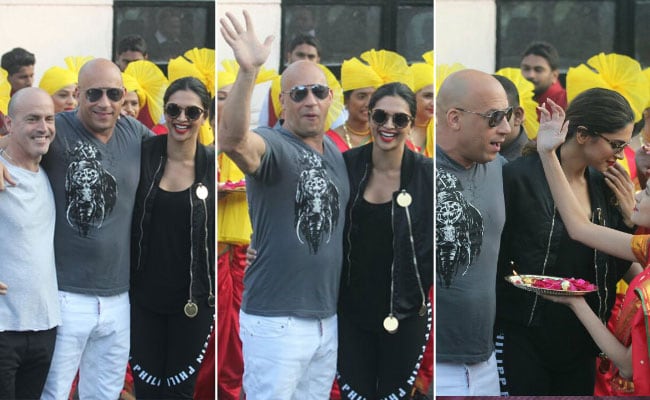 "Female characters are getting their due and you will see it in the movie," said Deepika about her character Serena Unger, who, the director reveals, is a female version of Xander Cage. "When they meet, they feel like they are looking in the mirror at each other," DJ Caruso said.
Vin said Deepika did a stellar job
. "Her commitment was apparent from the beginning. She made us feel like she would go to all lengths to personify this daredevil character. It wasn't just beauty and grace but ability to commit to action," he enthused.
Here's a glimpse of the sort of action he means:
For her part, Deepika was quick to share credit
. "I could play Serena so confidently because my co-star and director had so much faith in me," she said.
Vin Diesel ended by relating this story from his childhood: "Went with my father to see a guru who had come from India. I was a five-year-old kid playing with my brother. The guru told my parents, 'that kid will surprise you beyond your wildest imagination one day.'"
xXx: The Return Of Xander Cage
is film number three in the
xXx
series and also stars Ruby Rose, Samuel L Jackson, Nina Dobrev and Tony Jaa. The film will premiere in Mumbai tonight.