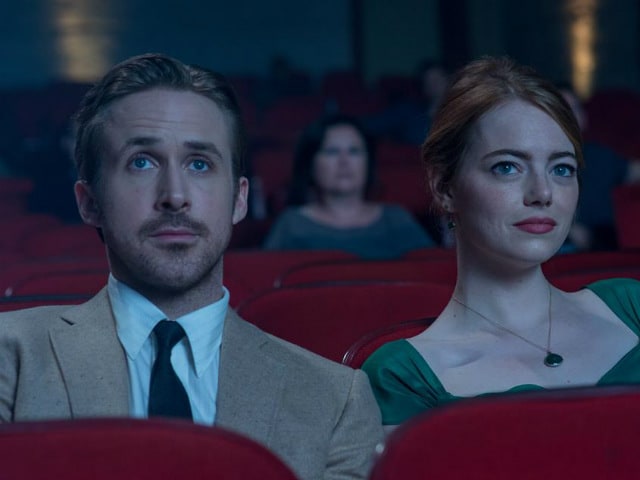 Washington:
La La Land
just joined
one of the most elite groups
in Hollywood.
Tuesday's Academy Awards announcement netted the musical 14 nominations, tying it with
Titanic
and
All About Eve
for most ever.
Does
La La Land
really belong within those ranks?
Damien Chazelle's boy-meets-girl musical
starring Emma Stone and Ryan Gosling follows the ups and downs of trying to make it big in show business. The 1950 drama
All About Eve
, starring Bette Davis, is also set within the entertainment industry, centering on an aging Broadway actress.
But
All About Eve
has secured a permanent place among America's most important cinematic classics; it ranks 16th in the American Film Institute's 1998 list of the 100 greatest American movies of the previous century.
La La Land
also got plenty of critical acclaim. But it's unclear whether a movie known for its attempt to recast an old genre will be remembered in a similar fashion decades later.
"
La La Land
... pulses and glows like a living thing in its own right, as if the MGM musicals of the
Singin' in the Rain
era had a love child with the more abstract confections of Jacques Demy," wrote Washington Post film critic Ann Hornaday. In doing so, the film created "a new kind of knowing, self-aware genre that rewards the audience with all the indulgences they crave - beautiful sets and costumes, fanciful staging and choreography, witty songs, escapist wish-fulfillment - while commenting on them from the sidelines."
The 2016 musical is also worlds apart from James Cameron's sweeping epic
Titanic
. Despite the 1997 movie's long running time -- three hours and 15 minutes -- audiences flocked to see the giant ship go down in a story that combined action, drama, romance and a chart-topping theme song in Celine Dion's
My Heart Will Go On
.
Titanic
remained in theaters for 41 weeks and became one of the biggest box office hits ever -- it remains fifth on the list of highest grossing movies in domestic sales, adjusted for ticket price inflation, according to Box Office Mojo.
Titanic
also had a much wider initial distribution than
La La Land
, playing in 2,674 theaters and grossing nearly $53 million at the box office during opening weekend.
La La Land
rolled out more slowly, playing in just five theaters during its opening weekend before gradually expanding to a high of 1,865 this past weekend. It took
La La Land
five weeks to surpass the opening weekend sales for
Titanic
, and that's not even adjusting for its higher ticket prices today.
And
Titanic
had an impact beyond the box office. By the time nominations for the 1998 Oscars were announced,
Titanic
had transcended from a Hollywood favorite that wowed audiences with technical feats to an iconic movie that had incredible mass appeal. While in retrospect it may be considered a bit corny,
Titanic
earned pretty solid reviews at its release, and it has an 88 percent positive rating on Rotten Tomatoes.
Since the 1998 Oscars ceremony, which brought
Titanic
11 awards, Cameron's movie has spurred numerous cultural touchstones that persist today. The Leonardo DiCaprio and Kate Winslet "I'm flying!" scene has been imitated and mocked on TV shows and in movies for years, and whether Leo could have fit on her raft remains an enduring question, one that even the Mythbusters tried to debunk.
Not to mention the role
Titanic
had in capitulating DiCaprio's career into the realm of blockbuster leading man.
Titanic
won for best picture, director, art direction, cinematography, costume design, film editing, original dramatic score, original song, sound, sound effects editing and visual effects. It's tied with
Ben-Hur
and
The Lord of the Rings: The Return of the King
for the most wins ever.
All About Eve
netted six awards: best picture, supporting actor, costume design, director, screenplay and sound mixing.
But just as Titanic's Oscar wins skewed higher because of its memorable music and the and scale of its production, so do
La La Land
nominations for its musical nature (two of its
14 nominations
are in the best original song category, and it also pulled in sound awards) and flashy look (it got noms for production design, costumes and cinematography).
La La Land won seven Golden Globes
earlier this year -- a record number. Whatever happens at the Academy Awards next month and beyond, Chazelle's movie has already made history.
(Except for the headline, this story has not been edited by NDTV staff and is published from a syndicated feed.)