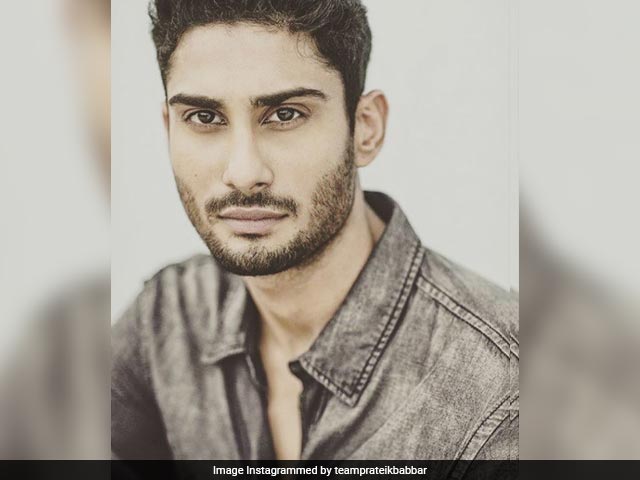 Highlights
'There was a part of my life that people didn't know about,' he said
'I wasn't happy,' he added
'I wasn't being good to myself,' said Prateik
New Delhi:
Prateik Babbar,
who opened up about battling drug abuse in an explosive interview last year
, said that he felt the need to reveal the truth about himself as he did not want to keep his fans in the dark, reported news agency IANS. In an interview with IANS, the 30-year-old actor said that he was perceived as a "happy" person while he was heavily dependent on drugs - a fact he wanted to share with the world. "There was a part of my life that people didn't know about. All these years, people, fans and admirers saw me in a certain way as a good actor, a happy guy. But that wasn't the case. I wasn't happy. I wasn't being good to myself. I was a heavy addict. It was a huge problem," IANS quoted Prateik as saying.
Prateik said that his decision to confess about drug abuse was in order to get rid of the "false impression." He told IANS: "I wanted the fans and admirers to know that side of my life. I didn't want them to have any false impression and that is why I wanted people to know about the downfall of my life. I wanted to tell them this happened to me and I am not perfect."
Prateik Babbar is the son of veteran actor Raj Babbar and
late actress Smita Patil
. Smita Patil died a few months after Prateik's birth and Raj Babbar returned to live with his former wife Nadira Zaheer. Prateik, who was brought up by his maternal grandparents, told
mid-day
in 2016: "It was about rebelling. With drugs, I also needed relationships. I thought if I didn't have anyone with me, I'd fall apart." Prateik, who dated and broke-up with
actress Amy Jackson
in 2012, told IANS that making behavioural changes kept him occupied: "It's a full time job - trying to be at peace in my life, trying to be a better person and be best in every way I can be, be a good brother, be a good actor and a good human being."
Prateik Babbar made his acting debut with a small-yet-significant role in 2008's
Jaane Tu... Ya Jaane Na
and was last seen in a full-fledged role in 2013's
Issaq
. Prateik is now is to make a comeback with Bengali film
Auroni Taukhon
, which he is currently shooting for. Talking about his break from Bollywood, he said: "I was finding myself. I took a sabbatical of five years. The idea is if there are people like me going through a life problem, this is a way to help," reported IANS. He also added in his interview: "There was a lot of time to introspect and resurrect. There is new direction, drive for life." Apart from his acting projects, Prateik is also expected to set up a wellness centre in Himachal Pradesh this year. Talking about his upcoming projects, he said: "I am in talks with a lot of producers and directors. The response is very positive. I am looking forward to it," reported IANS.
In between 2008 and 2013, Prateik Babbar has featured in films like
Dhobi Ghaat
,
Dum Maro Dum
,
My Friend Pinto
and
Aarakshan
.
(With IANS inputs)