Mumbai:
No matter how much you prod, Katrina Kaif refuses to mention Ranbir Kapoor but prefers to talk about her newly-acquired slender frame,
Baar Baar Dekho
and more.
Katrina Kaif's jaws ache and she also has a slight headache. Her head is tilted and rests on her palm as her hairdresser straightens her tresses. One of her assistants hands her a bottle of water. Back-to-back media interactions for
her upcoming film, Baar Baar Dekho
, at Mehboob Studios has left her exhausted and she quickly inquires how many more interviews she has to wrap up.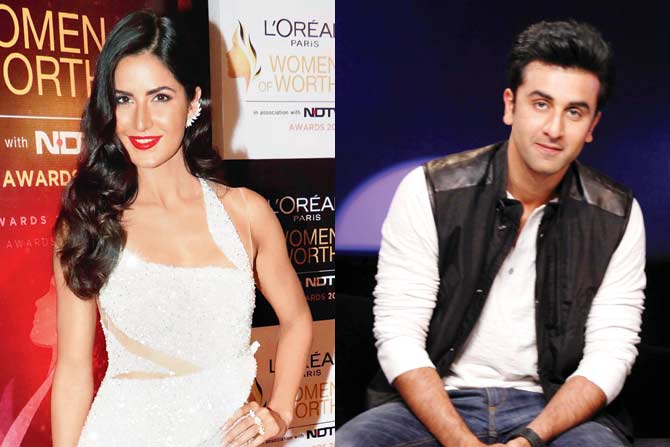 It is 8.30 pm and she can only squeeze in one more for the day.
Katrina knows questions on ex beau Ranbir Kapoor will come her way, but she isn't ready to talk about their recent break-up yet. She is careful not to use the word 'him' in the conversation. Well, the other talking point about the actress is her newly-acquired slender frame, so we start the chat with that.
Edited excerpts:
You have lost a tremendous amount of weight.
Yes, I have been working out a lot. As
Baar Baar Dekho
goes through different time gaps, we did a lot of experimentation. We tried prosthetics, make-up, styling and then what was required was change in physical appearance, for which I decided to lose a lot of weight.
It has been a busy time for you, hasn't it?
Barely had I returned from a
hectic tour for the Dream Team stage shows
in the US that I found myself diving into promotions for
Baar Baar Dekho
. I shot for an episode of
Jhalak Dikhhla Jaa
too. Film promotions are extremely hectic and they are always that way. Also, an old hip injury flared up during the tour due to all the performances and continuous travelling.
After the film releases, you will resume shooting for the long-in-the-making Jagga Jasoos.
Yes, it begins soon. The director (Anurag Basu) has a vision about how he wants to make it. That is why it is taking so long. Such a film cannot be made in a hurry; the subject and storyline is such. The film releases in April 2017.
Do you get affected when Salman Khan takes digs at you?
No, that is how Salman is. I have known him for too long.
How important it is for you to be billed as the most sexy, most desirable and top of the heap actress in Bollywood?
These are mere rankings, so till it lasts, it is good and you talk about it. It makes you feel good, but at the same time, it is all so temporary.
Deepika Padukone recently made it to world's top 10 list of highest paid actresses.
Is it? I wasn't aware of it. But if you are in that position, it is good to talk about it.
Are you in touch with Kareena Kapoor Khan (Ranbir's cousin)? She was fond of you and had even declared on TV that she'd dance at your wedding.
I have not met for long, and not since the announcement of her pregnancy. But she is looking great, and glowing.
Is your next project with Fawad Khan?
There are many scripts I am looking at. Right now, I cannot divulge anything. I am waiting for the makers to announce it.
Jagga Jasoos requires you to work with your ex, Ranbir Kapoor. How challenging is it to balance emotions and professionalism?
All this does not matter. There are so many people on the set, too many things happening, so for me, it is just about completing a professional commitment.
Don't you ever feel the need to talk about what went wrong in your relationship and put speculation to rest?
I have never spoken about my personal life. I prefer it this way. It is not that I will not talk about it to you and then 15 minutes later, talk about it to someone else. In a relationship, there are two people involved and they alone know what happened, so it is not right for one of them to say anything. I believe in God and God knows what is right and what is wrong. At the same time, I feel it is not right to talk about it when I am promoting my film. We have worked hard for
Baar Baar Dekho
. I do not want attention to be taken away from the film.
(This story has not been edited by NDTV staff and is auto-generated from a syndicated feed.)