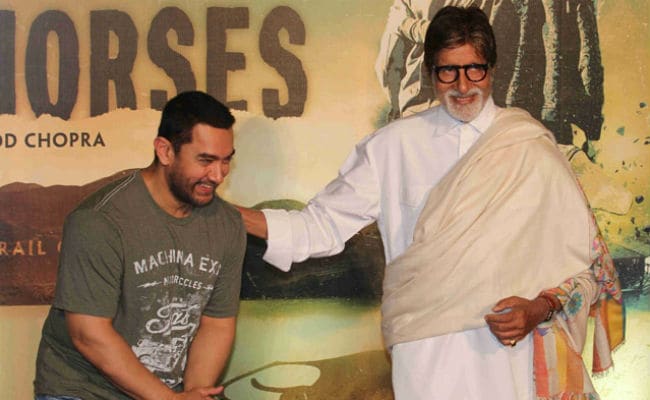 Highlights
102 Not Out, made in Rs 10 crore, has collected more than Rs 25 crore
Amitabh Bachchan says that he still has a fear of failure
The Umesh Shukla-directed film also stars Rishi Kapoor
New Delhi:
102 Not Out
, starring Amitabh Bachchan and Rishi Kapoor,
fared well at the box office with over Rs 25 crore in its pocket
(the film was made in Rs 10 crore). At an event to celebrate the success of the Umesh Shukla-directed film, Mr Bachchan told reporters that he recently
met his Thugs of Hindostan co-star Aamir Khan
for a financial reading to understand the nuances of Box Office collections. The 75-year-old actor said: "I met Aamir recently and he had a peculiar financial reading. He said if your weekend collection is Rs 10 crore, if you multiply it by three, that's the estimate of your lifetime collection. So there is all this mathematic reasoning behind it which I didn't know," reports news agency PTI.
When Mr Bachchan was asked if he still has the fear of failure, he said, "It's always there. From the day we begin, much before the release, that's all we talk about - what is going to happen, how many theatres, how much do we expect, if people are going to like it or not. That's always a worry for us."
Amitabh Bachchan also said that his family especially "madam" (his wife Jaya Bachchan) liked his film.
"The children loved it.
Madam (Jaya Bachchan) said to me that the timing of the film is really nice. There are big sci-fi Hollywood projects releasing like
Avengers: Infinity War
and suddenly here is our small film, which will make a place in people's heart. She was right," he was quoted as saying.
102 Not Out
is an adaptation of Saumya Joshi's popular Gujarati play. The movie is the story of the bond between a 102-year-old father (played by Amitabh Bachchan) and his 75-year-old son (Rishi Kapoor).
Amitabh Bachchan and Rishi Kapoor have co-starred in a film after 27 years. Together, they've made films such as
Kabhie Kabhie
,
Amar Akbar Anthony
and
Naseeb
among others.
(With inputs from PTI)