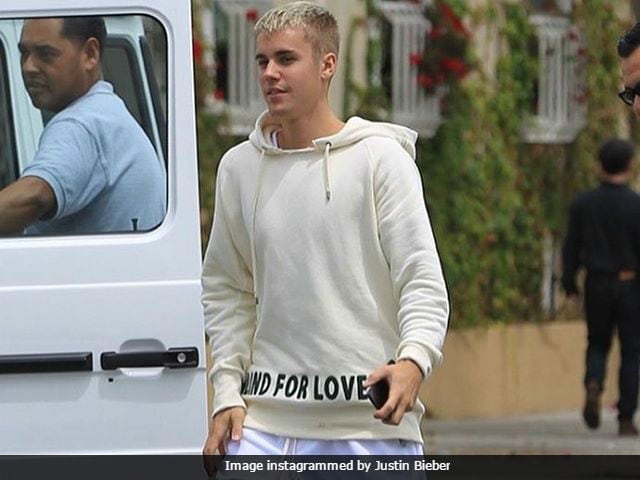 Highlights
Mumbai Police will provide Z level security to Justin Beiber
He will be choppered into Mumbai's D Y Patil Stadium
His entourage will be driven around town in 10 luxury sedans
New Delhi:
Pop star
Justin Bieber is coming to India
, and bringing with him a list of demands that seems, at first glance, a little absurd. Apart from the Z level security that Mumbai Police will provide, Justin's entourage will be driven around town in 10 luxury sedans and two buses - there are 120 of them so they'll need all the wheels they can get. The star himself will travel in a Rolls Royce. If that sounds fairly run of the mill, here's what isn't - Justin Bieber will be choppered into Mumbai's D Y Patil Stadium on May 10 to perform, the Rolls just won't do.
Concert organisers have confirmed that arrangements made to make
Justin feel welcome in Mumbai
include gourmet meals supervised by top chefs and containing dishes named after his songs and customized hotel suites re-decorated and stocked with some of his favourite things - purple flowers, books on yoga, and incense. Two hotels are being booked for reasons of security - three floors and an elevator in each hotel will be blocked exclusively for Justin Bieber and his entourage. Needless to say, the rooms will be the best on offer with king-size beds and access to a fitness centre and steam room.
Here's a list of what (other than band equipment and clothes and suchlike) Justin Bieber doesn't get on a plane without - a ping pong table, playstation and IO HAWK for 24x7 entertainment; sofa set, washing machine, cupboard and massage table to be used backstage - as well as a Jacuzzi. His backstage area will comprise of 13 rooms, including a separate one for the singer's family.
Justin Bieber's own room backstage will have, on demand, white curtains and white handkerchiefs, among other things. Here's a list of what eats and drinks will be available to him in his green room, should he get hungry or thirsty - still water, alkaline water, energy drinks, vitamin water, cream soda, juices, fizzy drinks, protein drinks, almond milk, white bread, chips, cheddar popcorn, Ghirardelli chocolate, peanuts, organic dried fruit, berry cereal, and peanut butter and cheese sandwiches.
Also required - white T-shirts, white tank tops and white socks (all in particular sizes) in each dressing room.
Sounds like a lot? Hey, it's not even half as outrageous as some other famous rock and roll demands - Van Halen likes a bowl of M&Ms in their room but no brown ones, please; Kanye West's green room is stocked with a barber's chair, Rihanna must have a clean animal print rug to walk barefoot on, and everyone from Beyonce and Adele to Taylor Swift and Katy Perry has extremely specific lists of food and drink demands.
A chopper to take you to the concert venue, however, that's fairly unusual - but if Shah Rukh Khan gets to helicopter home in
Kabhi Khushi Kabhi Gham
, why not Justin Bieber?