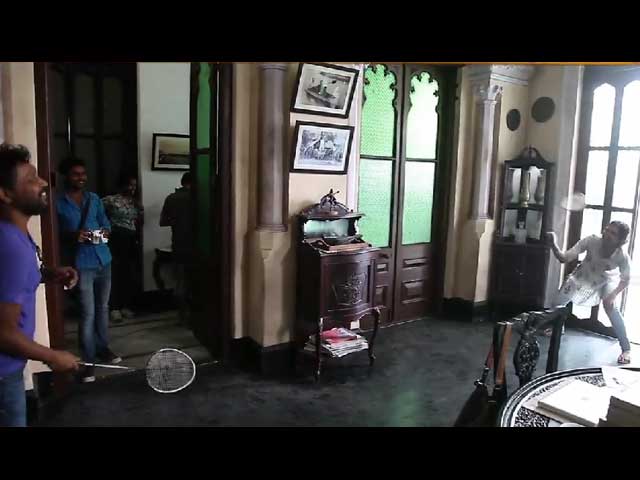 Life with a cantankerous and curmudgeonly hypochondriac with chronic indigestion must surely be a sobering influence. Luckily for actress Deepika Padukone, she appears to have lived to tell the tale of being bested by her aged and demanding father.
In fact, as proved by this behind-the-scenes look at what went down on the sets of new film
Piku
, Deepika's good humour has suffered no permanent damage. On-screen,
Piku
is a relatively sedate young woman managing a parent obsessed with the state of his internal affairs. Between takes, though, she's a lot more relaxed and fun.
A video posted on the film's official Facebook page offers a glimpse at 'the crazy side of Deepika Padukone.' For those who didn't know she had one, there's a lot of giggling and face-pulling, some of it brought on by having to master the Bengali accent and enunciate the word 'bhalo' (meaning: good) in authentic style. Amitabh Bachchan, playing
Piku
's millstone-around-the-neck father, wanders around the sets in various astonishing costumes (including a red tracksuit with letters that spell out Russia, accessorized with a white woolly cap) and also helps to send Deepika into paroxysms of laughter.
Want to see the crazy side of Deepika Padukone? Catch all the madness and fun from the sets of #Piku, in this exclusive series – 60 Days, 60 Shots

Posted by Piku on Monday, 20 April 2015
Other highlights include director Shoojit Sircar's failed attempt to score off his lead actress at badminton and Deepika's temporary job wielding the clapper board for a take.
Piku
, shot extensively in various Kolkata neighbourhoods including the stately home of Laha Bari, is Shoojit Sircar's fifth feature film as director. It also stars Irrfan Khan and Moushumi Chatterjee and is out on May 8.