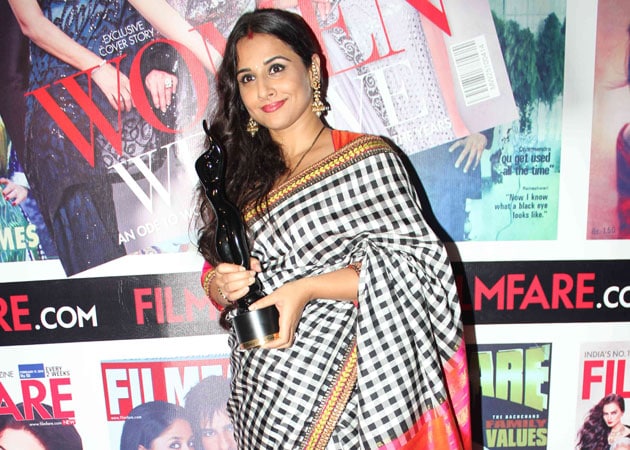 Highlights
Vidya Balan is on the jury of the Cannes Film Festival this year, a rare honour, and she's pulling out all stops to make a fashionable impression on the red carpet.
The Cannes red carpet has a long history of fashion faux pas, not least from Bollywood star Aishwarya Rai Bachchan who got it wrong for years before finally getting it right. So Vidya isn't taking any chances, we hear, and will be dressed by her style conspirator of old, Sabyasachi Mukherjee. That means we can expect a spectacular sari or two. Aishwarya left fashion critics divided in her Abu-Jani sari and jacket ensemble last year.
A thrilled Vidya told IANS how happy she was to be on the jury: "It feels great. It's a big honour for me to be on the jury of the most celebrated film festival in the world," the actress said.
"Especially this year when Indian cinema completes 100 years, it becomes more special. I am looking forward to it," she added.
Vidya will be in august company on the jury which also includes directors Steven Spielberg and Ang Lee and actors Nicole Kidman and Christoph Waltz.
The Cannes festival, to be held from May 16 to 26, will begin with The Great Gatsby, directed by Baz Luhrmann, starring Leonardo Di Caprio and Tobey Maguire, and featuring Amitabh Bachchan in his first Hollywood role.
100 years of Indian cinema is the theme this year at the festival, and four Indian films will be screened out of competition: Monsoon Shootout, Dabba, Ugly and Bombay Talkies. Anurag Kashyap's Ugly will premiere in the Directors' Fortnight selection.
(With IANS inputs)
New Delhi:
Vidya Balan is on the jury of the Cannes Film Festival this year, a rare honour, and she's pulling out all stops to make a fashionable impression on the red carpet.
The Cannes red carpet has a long history of fashion faux pas, not least from Bollywood star Aishwarya Rai Bachchan who got it wrong for years before finally getting it right. So Vidya isn't taking any chances, we hear, and will be dressed by her style conspirator of old, Sabyasachi Mukherjee. That means we can expect a spectacular sari or two. Aishwarya left fashion critics divided in her Abu-Jani
sari
and jacket ensemble last year.
A thrilled Vidya told IANS how happy she was to be on the jury: "It feels great. It's a big honour for me to be on the jury of the most celebrated film festival in the world," the actress said.
"Especially this year when Indian cinema completes 100 years, it becomes more special. I am looking forward to it," she added.
Vidya will be in august company on the jury which also includes directors Steven Spielberg and Ang Lee and actors Nicole Kidman and Christoph Waltz.
The Cannes festival, to be held from May 16 to 26, will begin with
The Great Gatsby
, directed by Baz Luhrmann, starring Leonardo Di Caprio and Tobey Maguire, and featuring Amitabh Bachchan in his first Hollywood role.
100 years of Indian cinema is the theme this year at the festival, and four Indian films will be screened out of competition:
Monsoon Shootout
,
Dabba
,
Ugly
and
Bombay Talkies
. Anurag Kashyap's
Ugly
will premiere in the Directors' Fortnight selection.
(With IANS inputs)
Watch: