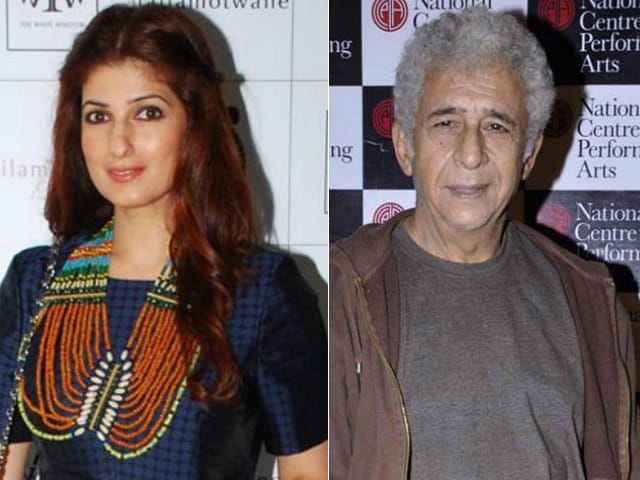 Highlights
'Thank u folks for all the love,' Twinkle Khanna wrote on Twitter
'Sir if u can't respect the living, respect the dead,' Twinkle wrote
'I think Mr Khanna was a very limited actor,' Mr Shah said earlier
New Delhi:
Author Twinkle Khanna, who furiously lashed at out against Naseeruddin Shah over comments about her father Rajesh Khanna, appears to have had the last word after tweeted again Sunday, reminding Mr Shah of Mr Khanna's body of work and thanking her followers for adding their tweets to hers. Mr Shah has apologized for his remarks and was quoted by
India Today in a tweet
as saying, "I apologise to those who were personally offended, my intention was not to attack him (Rajesh Khanna)."
'Rajesh Khanna' trended on Monday.
Late on Sunday, 42-year-old Twinkle tweeted:
All due regard toMrShah's reality,mine=a man who loved cinema& did films likeAnand,AmarPrem,KatiPatang thank u folks for all the love

— Twinkle Khanna (@mrsfunnybones) July 24, 2016
Last week, Naseeruddin Shah told
Hindustan Times
that he blamed Rajesh Khanna, who ruled the box office in the Seventies, for lowering acting standards. "It was the 70s when mediocrity came in Hindi films. That's when the actor called Rajesh Khanna joined the industry. For all his success, I think Mr Khanna was a very limited actor. In fact, he was a poor actor. Intellectually, he wasn't the most alert person I have ever met. His taste ruled the industry," he said.
His comment provoked an angry response from the late actor's daughter. "Sir if you can't respect the living, respect the dead - mediocrity is attacking a man who can't respond," tweeted Twinkle to a handle that bears Mr Shah's name but is unverified.
Twinkle's friend, filmmaker Karan Johar, tweeted in her support almost immediately:
I agree with you @mrsfunnybones...due respect to seniority but this was in exceptionally bad taste and not becoming of a fraternity member..

— Karan Johar (@karanjohar) July 23, 2016
Filmmaker Kunal Kohli described Mr Shah's words as "callous:"
@mrsfunnybones the legend of Rajesh Khanna cannot be even mildly affected by the callous words of Naseer Saab.

— kunal kohli (@kunalkohli) July 24, 2016
Several Twitter users also defended Mr Khanna, while many pointed out that Naseeruddin Shah has every right to his own opinion.
@mrsfunnybones. mr shah..if u r proud of your work in cinemas..so r we proud of Rajesh khanna.he has a legacy..waiting to see you build one

— Rahul Sharma (@920a2f40c1dd4d9) July 25, 2016
Is this age old slowly brewed jealousy talking?

Why now @NaseerudinShah talk abt Rajesh khanna who is long gone? @mrsfunnybones

— Ranjana Thakur (@RanjanaThakur2) July 25, 2016
Naseeruddin Shah is entitled to his opinion.. He has every right to refer to Rajesh Khanna as a mediocre actor. (1)

— Ronak Kamat (@Ronak_Kamat) July 25, 2016
Agree with Naseer. Rajesh Khanna was right man at right time that clicked. No versatility in his roles.

— Baagi_Ballia (@sunilmumbaikar) July 25, 2016
Rajesh Khanna, the actor for whom the term 'superstar' was coined, died of cancer in July 2012. He was the star of films like
Aradhana
,
Kati Patang
and
Safar
.
Twinkle Khanna, 42, is
married to actor Akshay Kumar
and is the elder of Rajesh Khanna's two daughters with actress Dimple Kapadia. Twinkle has starred in films like
Mela
,
Baadshah
and
International Khiladi
. She is now a columnist and author.