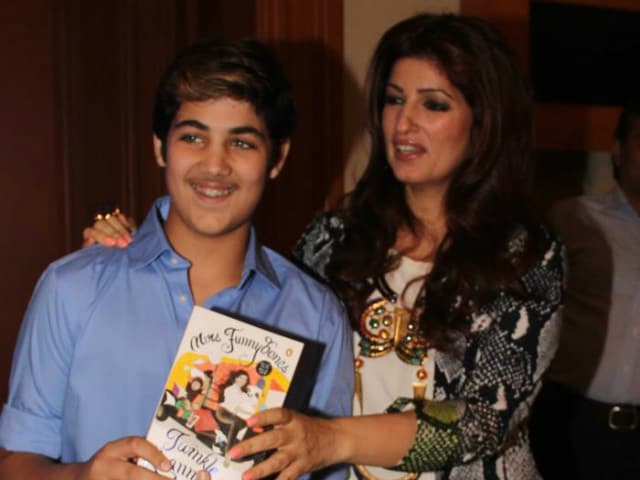 Highlights
'Believe it's a compliment in today's times,' she said
'I am a mother at the end of the day,' said Twinkle
'I believe it's a good thing,' she added
New Delhi:
How would you feel being called a "savage" by the friends of your teenage son? Umm well, author and columnist Twinkle Khanna says it's "aweful" but admits she has made peace with it after an assurance from her son Aarav, reported
DNA
. In an interview with
DNA
, Twinkle, well known for being
famously outspoken
on social media and IRL, was asked if she considers herself as a 'friendly mom' and this is what she said: "I hope I am. I try to be. Aarav's friends call me 'savage'. I believe it's a compliment in today's times. It sounds awful, but I believe it's a good thing. My son says so, at least." Twinkle Khanna
is married to actor Akshay Kumar
, and they are parents to Aarav, 14, and daughter Nitara, 4.
Of being a mother, the actress-turned-author said she ensures that Aarav and Nitara get to have the privacy they deserve, reported
DNA
. "See, I am a mother at the end of the day, so it's my duty to protect my kids. I don't like putting pictures of either Nitara or Aarav because they might be kids but they also need their privacy. Just because they have a well-known father or others in the family are public figures, you cannot compromise on their privacy. I don't have issues with people clicking pictures of them when they go out with me. But I will try and keep them away from the limelight till they understand the value and consequences of it themselves," Twinkle told
DNA
.
The Kumars
have almost always carefully avoided their children being photographed by the paparazzi.
Earlier this year, Akshay Kumar, Bollywood's favourite
Khiladi
, said that his wife is a "fighter" who keeps the family united. "I don't feel shy in calling my wife as a 'yodha' at all. Yodha does not necessarily mean one who is holding a gun. Yodha is a person who holds his own family. A soldier who fights a war, isn't only a yodha. It is all about holding your family and close ones. It is a big responsibility when a person calls himself a fighter. He must be a person whom you can trust and rely on, no matter whatever happens. You have that feeling that he won't break your trust. So, that is a big responsibility," news agency IANS quoted Akshay as saying. Twinkle Khanna, 43, and Akshay Kumar, 49, married in 2001.
Twinkle Khanna is the author of the books
Mrs Funnybones
and
The Legend of Lakshmi Prasad
, and is all
prepped to produce a film titled Padman
, starring Akshay Kumar.