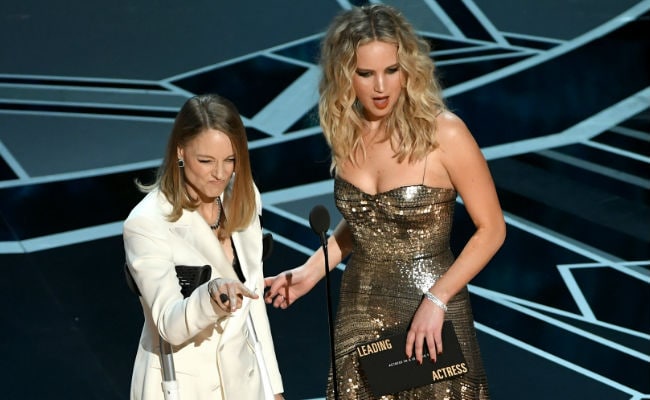 Highlights
No one will forget Frances McDormand's speech anytime soon
JLaw and Jodie Foster pulled Meryl Streep's leg while presenting an award
Jimmy Kimmel hosted the Oscars for the second consecutive year
New Delhi:
The Academy Awards are apparently a perfect platform to make profound as well as funny speeches. Host Jimmy Kimmel had us all in splits when he said that 'Oscar' is the 'most respected man' (it was an obvious dig at disgraced media mogul Harvey Weinstein). The host also mentioned his old 'nemesis,' Matt Damon, twice at the gala. Best Actress winner Frances McDormand ensured the world knew the meaning and the significance of "Inclusion Rider" by just mentioning the phrase in her speech. All this and much more feature in the top 10 moments from the Oscars ceremony hosted in California on March 4 (Monday morning in India).
Oscars For All Women
Best Actress winner Frances McDormand probably received the loudest applause at the Oscars after she gave a shout out to all the female nominees sitting in the Dolby Theatre to "get some perspective." Frances McDormand insisted that fellow Best Actress nominee Meryl Streep (for
The Post
) too stood up so that the others could follow her lead. Here's Meryl Streep's reaction, which frankly, says it all.
Best Actress winner Frances McDormand rallies the crowd. Presented by @ATT. #Oscarspic.twitter.com/6loAtYheKZ

— The Academy (@TheAcademy) March 5, 2018
Frances McDormand ended her speech with two powerful words - "Inclusion Rider" - the story of which
you can read here
.
Jordan Peele's Historic Moment
The 90th Academy Awards had many "first time at the Oscars" moments after the nomination list was announced and then there were some after the award show too. Like Jordan Peele, writer of
Get Out
, became the first African American writer to win the Best Original Screenplay Oscar.
Oscar, The 'Most Respected Man'
In his opening monologue, second-time host Jimmy Kimmel explained to the Academy members that how Oscar, a 90-year-man, is the "most respected man in Hollywood." Gesturing to the Oscar statuette, the host said: "He keeps his hands where you can see them, never says a rude word and, most importantly, no p*n*s at all. He is literally a statute of limitations."
Jennifer Lawrence And Jodie Foster On Meryl Streep
Jennifer Lawrence and Jodie Foster replaced Casey Affleck (last year's Best Actor winner) as the presenters for Best Actress award because his 'time was up.' JLaw, looking uber-glam in a metallic Dior dress, walked on stage with Jodie Foster, who was on crutches. When Jennifer asked what happened to her, the
Panic Room
actress said: "Streep... she tackled me. But I don't want to discuss it." Jennifer Lawrence added: "No. It's cool. You know she tripped me once."
Jennifer Lawrence and Jodie Foster's speech won the night! #Oscarspic.twitter.com/bTW3tBSc3W

— Jennifer Lawrence (@JLdaily) March 5, 2018
Tch... tch... Tch.. Jennifer, we know Meryl Streep wasn't anywhere near you when this had happened:
Matt Damon, Of Course
With Jimmy Kimmel as the host, Matt Damon's mention (and mockery, of course) was inevitable. It happed twice this year. First, the
Jimmy Kimmel Live!
host said: "I want to apologize to our men and women of the armed forces for including Matt Damon in that." And later in his closing monologue, he said: "Apologies to Matt Damon, we ran out of time for him." LOL
Congratulations to #PhantomThread costume designer Mark Bridges on the shortest speech of the night! Enjoy your new jet ski! #Oscars#LakeHavasupic.twitter.com/O3mnTxqcZp

— Jimmy Kimmel (@jimmykimmel) March 5, 2018
Movie Crashers
The Oscars' hosts have a way adding
tadka
to the award show. Ellen DeGeneres ordered pizzas for the attendees in 2014 while Jimmy Kimmel decided to gatecrash a screening of
A Wrinkle in Time
, in a nearby auditorium. Imagine you're at a screening and Jimmy Kimmel walks in with Gal Gadot, Lupita Nyong'o and Margot Robbie to announce: "You are live on the Oscars right now."
A Jet Ski On Oscars Stage
Jimmy Kimmel announced a
prize for the shortest acceptance speech
- a jet ski - which was won by Mark Bridges, who picked a trophy for Costume Designing. He 'rode' the Jet Ski (worth a whopping $17,999) with Helen Mirren as the attendees exited the auditorium.\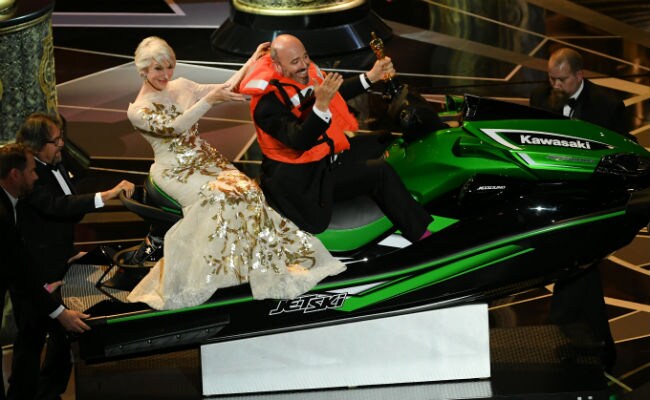 The Return Of Warren Beatty
Warren Beatty, who was partially responsible for last year's envelopegate, returned to the Oscars stage to present the award for Best Film (again). This time it was flawless. He was accompanied by his last year's partner-in-crime, Faye Dunaway.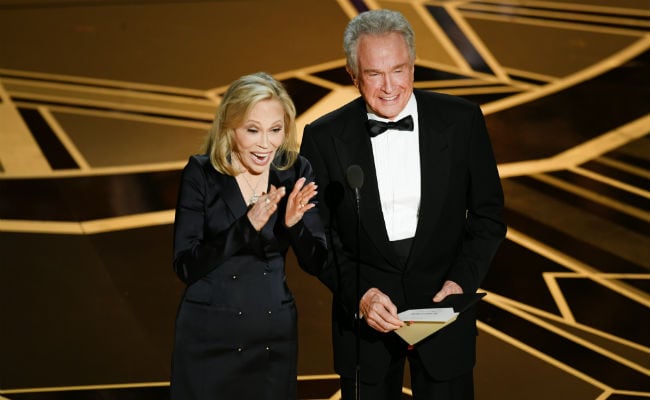 Emma Stone, The Presenter We Need And Deserve
Emma Stone, winner of last year's Best Actress award, presented the Best Director award this year. Introducing the nominees, Emma said: "These four men and Greta Gerwig created their own masterpieces this year." Emma's unique way of highlighting the under-representation of women in the director's category received a grand applause. Greta Gerwig, director of
Lady Bird
, was the fifth woman in the 90-year-old history of the Academy Awards to be nominated in Best Director category.
Lupita Nyong'o And Kumail Nanjiani Speak Out
"We are the two actors you keep hearing about but whose names you have trouble pronouncing," said Lupita Nyong'o and Kumail Nanjiani before presenting the Oscar for production design. They rooted for immigrants striving hard to make the best of their lives in America. "Like everyone in this room and everyone watching at home, we are dreamers... So to all the Dreamers out there, we stand with you," said Kumail Nanjiani.
The 90th Academy Awards ended with a bang with
The Shape Of Water
taking maximum prizes including Best Film and Best Director for Guillermo del Toro.