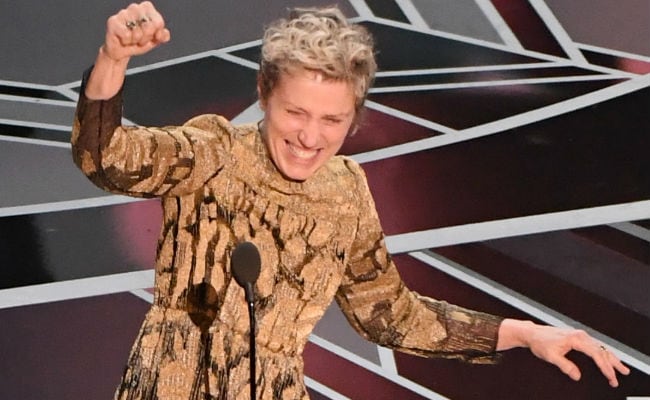 Highlights
Frances McDormand won Best Actress Oscar for Three Billboards
She left Twitter confused by mentioning 'Inclusion Rider'
'Inclusion Rider' is a contract clause which supports diversity
New Delhi:
Frances McDormand, who won
Best Actress at the 90th Academy Awards
on Sunday night (Monday morning in India), gave this year's Oscars it's most powerful moment. Her speech included a shout out to the women in the audience at the Dolby Theatre in Los Angeles - they stood, Meryl Streep among them - and concluded on a note that was confusing to those not familiar with the legalese of Hollywood contracts (most of us, in fact). "I have two words to leave you with tonight - inclusion rider," Frances said, prompting frantic Googling on the part of those watching. We Googled it too and discovered that an 'inclusion rider' is a clause that actors can insist be included in their contracts which ensures the cast and crew on a film meet a certain level of diversity. Now that we know what an 'inclusion rider' is, we have a one word response to Frances McDormand's two -wow. Oh for Bollywood, where entire star systems revolve around the likes of Salman Khan, would follow suit.
Actress Brie Larson, who won Best Actress Oscar in 2016 for
The Room
, was one of the early supporters of 'Inclusion Rider.' She tweeted this shortly after Frances' speech went viral:
I'm committed to the Inclusion Rider. Who's with me? https://t.co/yvQ0wR5D80

— Brie Larson (@brielarson) March 5, 2018
This is how Twitter reacted:
Me after googling INCLUSION RIDER pic.twitter.com/IRXn8gNYh5

— amber ruffin (@ambermruffin) March 5, 2018
For the non-film contract fluent folks, Frances McDormand closed with "inclusion rider," likely meaning put diversity requirements in your contract about the other crew/artist positions throughout a film you attach yourself to. #Oscars

— Emerson Collins (@ActuallyEmerson) March 5, 2018
Can somebody tell me what Inclusion Rider is? I need to know NOW #Oscars

— Teri Hart (@TeriHart) March 5, 2018
i googled inclusion rider and it didn't help

— andrea grimes (@andreagrimes) March 5, 2018
A tweet from the official twitter account of Merriam-Webster dictionary revealed the impact of Frances McDormand's final words:
'Inclusion' is our top search on the night, followed by 'cinematography,' 'in memoriam,' 'feminism,' and 'rider.' #Oscars

— Merriam-Webster (@MerriamWebster) March 5, 2018
Frances McDormand, 60, started her speech by asking all her co-nominees to stand up. She especially asked Meryl Streep (also nominated with Frances in Best Actress category for
The Post
) to lead by example and then said: "Look around ladies and gentlemen because we all have stories to tell and projects we need financed. Don't talk to us about it at the parties. Invite us into your office in a couple days or you can come to ours, whichever suits you best, and we'll tell you all about them."
Frances McDormand's speech can be seen as an extension of the ongoing 'Me Too' and 'Time's Up' campaigns, which fight for gender equality while also standing against sexual harassment at workplace. The Academy Of Motion Picture Arts And Sciences, which gives away the Oscars, revised some of its rules and became more inclusive this year. An
AFP report stated
: "Many of the Academy's long-nonworking and mostly white male members had their voting privileges revoked, while the vast majority of almost 1,500 people invited to join in 2016 and 2017 were women or people of color."
Tellingly, Golden Globe winner James Franco was overlooked for a nomination this year after allegations of sexual harassment surfaced after he had already won his Globe. Last year's Best Actor Casey Affleck (to whom Brie Larson pointedly did not hand the Oscar while presenting it in 2017), did not attend the Oscars and was replaced as presenter of Best Actress by Jodie Foster and Jennifer Lawrence. Frances McDormand won her second Best Actress Oscar for
Three Billboards Outside Ebbing, Missouri
(she previously won for
Fargo
). Her co-star Sam Rockwell also won Best Supporting Actor.
(With inputs from AFP)