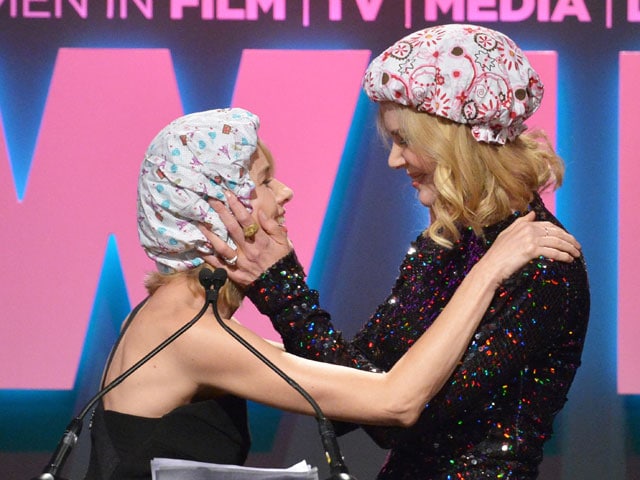 A kiss between actresses and besties Nicole Kidman and Naomi Watts has set off a viral surge of photos on social networks. They weren't just being randomly provocative though - Nicole, who received the Crystal Award for Excellence in Film at the Women In Film 2015 Crystal Lucy Awards held on Tuesday, grabbed the chance to deliver a message to director Jane Campion, whose film her teenaged self had turned down.
The kiss, with both actresses wearing unflattering shower caps, was a reference to a scene in the Campion-directed film that Nicole declined.
E! Online
quotes Nicole as having said, "I am horrified to report that I passed on the part she offered me. My excuse was that I had final exams to study for, but the truth is the part would have required me to appear up on the screen wearing a shower cap and kissing a girl. I wanted to be the kind of actress with long flowing hair [who] kissed boys. I was not ready to do the kind of work that threatened anybody. Well, today I know better and I say, 'Jane, if you're out there. I'm ready to don this cap."
This was the point when Nicole's longtime friend Naomi Watts stepped up to help put the message across. It's unclear whether Ms Campion, director of acclaimed films like The Piano, has taken note but the Internet certainly has.
The 47-year old actress also gave a powerful speech on women's empowerment which she ended by saying, "Let's stand tall and never ever apologize for it."