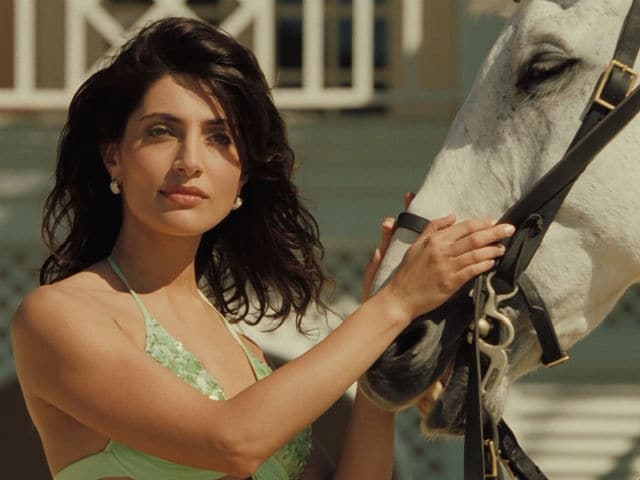 Highlights
Caterina Murino stars in Fever with Rajeev Khandelwal
For us, Bollywood movies are about dance: Caterina
Fever will release on August 5
Mumbai:
She may have appeared in a James Bond movie earlier, but Italian actress Caterina Murino's dream was to dance in a Bollywood film someday.
The former Bond girl, who starred in Daniel Craig's
Casino Royale
, is all set to make her debut in Bollywood with
Fever
.
Caterina said that since director Rajeev Jhaveri knew her dream of dancing in a Hindi film, he put her in a sequence utilising her skills.
"Because Rajeev knew that it was my dream to dance in a Bollywood film, he put me in a sequence where I am dancing. But it is more of a European style, not the typical dance. So 60 per cent of my dream was fulfilled," Caterina told PTI in an interview.
"For us, Bollywood movies are about dance, classical and historical things but I believe you are doing much more than that. But
Fever
has an international appeal to it. It is not the typical Bollywood stuff," she added.
Fever also stars Rajeev Khandelwal,
Gauahar Khan and British actress Gemma Atkinson.
The 38-year-old actress was happy when the film was offered to her, but her only impression of Bollywood was that it was a huge industry which churned many movies.
"Thanks to James Bond, I am here. Because the director saw the film and approached me. I was so happy when I received the script because Bollywood for us, is (like) a huge machine. But unfortunately, we didn't see much of Bollywood films," she said.
Even though Caterina did not watch a lot of Hindi films, the actress said people in Italy are crazy about Kabir Bedi more than any other superstar of India.
"I saw
Jodhaa Akbar
,
Devdas
and
Salaam Bombay
. Aishwarya Rai is an amazing beauty and I also loved the performance of Hrithik Roshan. But for us, Kabir Bedi is a big star in Italy. All your big stars here are completely unknown to us," she said.
Caterina is all praises for her co-star Rajeev Khandelwal and said that she sees a lot of parallels with him as a performer.
"Rajeev is an amazing human being. I know he is a very unconventional Bollywood actor. He makes very different movies. I really admire him. People know if it is a film starring Rajeev, it has to be good," she said.
Fever
, produced by Ajay Chabbria, is scheduled to release on August 5.
(Except for the headline, this story has not been edited by NDTV staff and is published from a syndicated feed.)