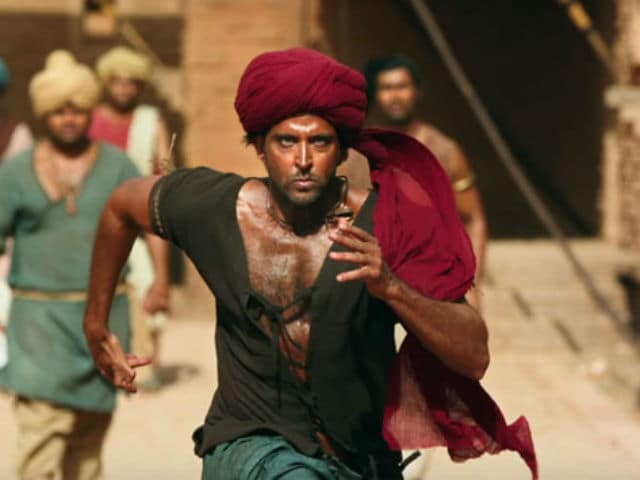 Highlights
The posters, trailer and songs were shredded on Twitter
We have 10%, 90% has to be imagined, Ashutosh said
The director had to pick one theory and base the film on that: Hrithik
New Delhi:
Recreating the Indus Valley Civilisation for screen was a 10% vs 90% problem,
Mohenjo Daro
's lead actor and director told NDTV ahead of the film's release. The posters, trailer and songs released in the run-up have been shredded on Twitter, which picked holes in everything, from Hrithik Roshan's dhoti and Pooja Hegde's headdress to the mood lighting in the Great Bath and the belly dancers backing the hero up.
Of the furious facepalming on Twitter, both Hrithik and director Ashutosh Gowariker insist that there is no version of Indus Valley history that passes for accepted reality. Show us where it says that the Harappans weren't like this, they told us in separate interviews.
Hrithik Roshan, who stars as
Sarman
in the film, offered the defence that there is scant information about what life in the Indus Valley Civilisation was really like. The absence of an accurate frame of reference justifies the lack of accuracy in a populist film version, was his argument.
"There are only theories. There's no recorded proof, it's pre-history. There is no record of whether it is accurate or whether it is not accurate, there are just theories which have been floated by historians. The director has had to pick one theory and construct this film based on that," he told NDTV.
Ashutosh Gowariker echoed Hrithik's sentiments. "Archaeologists are still debating about their interpretations. When I make a movie, I have to select one path and I'm following Jonathan Mark Kenoyer's path. He's a leading archaeologist who's worked in
Mohenjo Daro
and
Harappa
for 40 years. When you have a viewer who watches the trailer and thinks it's not in sync, he's probably following another archaeologist's thought. This civilisation is all about speculation."
The Bollywoodisation of an ancient culture required filing in 90% of the blanks, he said: "The hard findings are the urban development, the grid pattern of the streets, the drainage system, the seals and some jewellery, some clay dolls. That's all that we have, the rest has to be imagined. We have 10%, 90% has to be imagined. So we have tried to keep a blend of fact and fiction and if you have more fact, it's straight categorized as a documentary. If you do more fiction, it's categorized as a fantasy film."
What's important is how uplifting, not edifying, the 2.5 hours spent at the cinema are, said Hrithik: "If the movie is entertaining, if you have not negated a historical event or falsified an event that was relevant to what is recorded as history, then what remains is how entertained you get in a movie, that's what lasts."
Mohenjo Daro
is not the first film guilty of lack of commitment to historical integrity, nor will it be the last. Striving to entertain rather than to excel has long been a Bollywood failing, perhaps sinking to its lowest with Dharmendra in blackface playing an Abyssinian slave in 1983 movie
Razia Sultan
.
To Hrithik, it matters not how little the costumes in the film look like the seals and figurines excavated from the sites at Larkana. "For me,
Mohenjo Daro
is not attractive because it is a period film, it is attractive because of its basic story. The romance, the scenes, the dialogue, what I am doing, how I'm feeling, how I'm reacting to Pooja, the growth of the love story, the mysteries surrounding
Sarman
that come to light, the betrayal, the rise above and fight for what he thinks is right even though it is looked upon as wrong - that is what appeals to me," he said.
Whether it will appeal to his public remains to be seen and, if it doesn't, chances are that it will be director Ashutosh Gowariker's burden to bear, having made at least two other period pieces with great success in the past -
Lagaan
and
Jodhaa Akbar
.
At the end of this weekend, box office totals will tell us whether or not the outrage over Pooja's headdress was localized to Twitter and if the millennial movie-goer is more exacting than and unlikely to be pacified by emotional evocativeness than, for example,
Mughal-E-Azam
's 1960 audience.