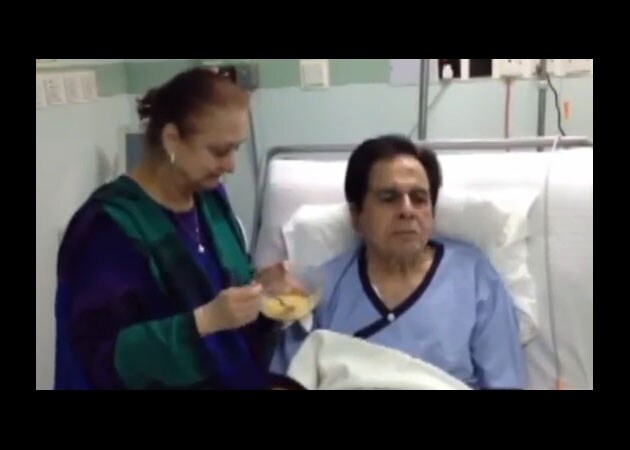 Highlights
Bollywood thespian Dilip Kumar, who is currently recuperating in hospital following a heart attack, thanked his fans for their love and support. He tweeted yesterday: Thank you for your prayers and love. Resting in the hospital.
A video posted on Dilip Kumar's Twitter page shows Saira Banu looking after him in hospital and Dilip saab responding to her care.
The legendary actor, who was admitted Mumbai's Lilavati Hospital following a heart attack on September 15, could be discharged next week as he is responding well to treatment.
"He (Dilip Kumar) is doing well now. He is much better and recovering. Though he will be in ICU for two more days or so, he might get discharged next week," sources close to the actor told news agency PTI.
A string of Bollywood celebrities including actress Shabana Azmi have been calling on the actor at Lilavati Hospital where he is currently recuperating.
Among those who visited Dilip Kumar in last two days are actors Farida Jalal, Asha Parekh, Raza Murad to name a few, besides minister Rajeev Shukla and others.
The 90-year-old veteran actor has many memorable roles in landmark films like Madhumati, Devdas and Mughal-e-Azam, to his credit.
-With inputs from PTI
New Delhi:
Bollywood thespian Dilip Kumar, who is currently recuperating in hospital following a heart attack, thanked his fans for their love and support. He tweeted yesterday: Thank you for your prayers and love. Resting in the hospital.
A video posted on Dilip Kumar's Twitter page shows Saira Banu looking after him in hospital and Dilip
saab
responding to her care.
The legendary actor, who was admitted Mumbai's Lilavati Hospital following a heart attack on September 15, could be discharged next week as he is responding well to treatment.
"He (Dilip Kumar) is doing well now. He is much better and recovering. Though he will be in ICU for two more days or so, he might get discharged next week," sources close to the actor told news agency PTI.
A string of Bollywood celebrities including actress Shabana Azmi have been calling on the actor at Lilavati Hospital where he is currently recuperating.
Among those who visited Dilip Kumar in last two days are actors Farida Jalal, Asha Parekh, Raza Murad to name a few, besides minister Rajeev Shukla and others.
The 90-year-old veteran actor has many memorable roles in landmark films like
Madhumati, Devdas
and
Mughal-e-Azam
, to his credit.
-With inputs from PTI